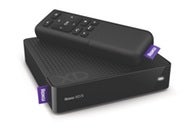 Roku's futuristic set-top boxes bring you everything from Netflix to ultimate fighting, but now they can also let you serve up your own hand-picked content, thanks to the addition of the Roku USB Media Player channel.
While Roku boxes have previously had a "private" channel, the addition of the USB channel allows owners of the Roku HD-XR and Roku XDS plug in a USB storage device—such as a hard drive or a flash drive—and play back content stored on them. It also provides a much easier interface for playing back media, and better file support.
Supported formats include MKV, MP4, MOV, and WMV/ASF for video; AAC and MP3 for audio; and JPG and PNG for images. The Roku boxes can even pass through Dolby Digital audio from video files, though you'll still need compatible audio hardware to actually reap the benefits. In addition,
The Roku HD-XR has been discontinued, but the XDS model currently sells for $100. The USB Media Player channel can be installed for free from the Roku Channel Store, and requires firmware version 2.9 build 1529 or greater.