Your enemies will come at you from every dark crevice. An entire ship of aliens seeks only your destruction. Thankfully, you have your rotary saw. Dead Space by Electronics Arts first became available on consoles and Windows PCs in 2008. The 3rd-person survival horror title featured a winning formula of action and horror in a haunting science-fiction setting. Now, the scares continue in a game for the iOS.
This new story begins aboard a mining spaceship three years after the original Dead Space story ended and sets up gamers for the story's continuation in Dead Space 2. You are on a quest to investigate what became of the crew, many of whom have transformed into Necromorphs thanks to another pesky alien infestation. The Necromorphs come at you in all shapes and sizes, but they all share one thing in common: they want to kill you and give you a good scare before doing so.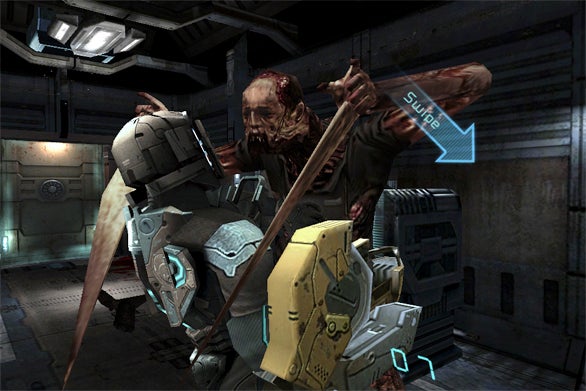 Player control is handled through a standard two virtual stick arrangement—just tap and slide anywhere on the left to move and anywhere on the right to look. Tap the screen to enter the fire mode and use an array of mining tools you'll gather and use as weapons against the Necromorphs. Tilting the screen switches to alternate firing modes. Pay special attention to boxes and lockers where you'll scavenge for additional ammunition, power cells, and credits. Throughout the game there are benches to upgrade your weapons with the power cells or purchase items from stores such as ammunition or armored suits with your credits. Optionally, you can use the in-game purchase system to purchase these items with real iTunes money.
Combat is a mixture of long distance engagements using tools such as a plasma cutter or close quarters melees using your rotary saw. You're also equipped with a stasis power to momentarily stun Necromorphs—buying you precious time. Each Necromorph has its own vulnerabilities, and these are key to defeating them. For example, those with tentacles require you to surgically remove each of them before the Necromorph is ultimately defeated. This forces you to continually select the best tool for the job. For long-range weapons, you point and shoot, but at close range, swipes of your finger direct cutting motions. Visual cues alert you to when and where to swipe. One-on-one, combat is straightforward, but once multiple Necromorphs surround you, you'll work harder to strategically position yourself while juggling the different weapons and tracking your enemy. Be careful when backing into corners as you can very easily fill the entire screen with your character's back and lose sight of the action.
The strength of Dead Space is the environment in which you are enveloped. It's easily one of the best looking games you'll see on the iOS and speaks to EA's high regard for the franchise. This isn't a cheap port of a popular tite—the scares and details here are impressive in their own right. To fully experience the horror and suspense, follow the advice on the opening screen and wear a good set of headphones. Dead Space is best played in a darkened room with the music and chilling sound effects pumping directing into your ears. The mining spacecraft is dimly lit with tight corridors and plenty of hiding places for those sneaky Necromorphs, but often when they emerge, the lights go out, the music intensifies and so does the excitement. All of the environments are rendered in stunning detail, and the Necromorphs come alive with ferocious realism. The voice acting is superb as well—providing you guidance along the way and adding context the story.
The single-player storyline is the only game mode available, but there are two levels of difficulty to challenge you. There are in-game achievements but unfortunately they're aren't connected to services such as Apple's Game Center or OpenFeint. These achievements help you unlock wallpaper of game art which you can save to your photo library.
The iPhone/iPad Touch and iPad versions are separate purchases, but choosing between them is not easy. Each are essentially the same with only subtle differences such as the screen placement of the close combat melee gestures. While the iPad gives you the gorgeous graphics on a larger scale adding to the immersion, the iPhone/iPod touch version with its extraordinary Retina graphics does not disappoint if you prefer your scares in a more portable format. Whichever you choose, be prepared for plenty of chilling moments, intense combat action, all set in exquisitely crafted environments. Just remember that though they may not hear you scream in space, they certainly will in a neighborhood coffee shop.
Dead Space is compatible with any iPhone, iPod touch, and iPad running iOS 3.0 or later. Dead Space for iPad is compatible with an iPad running iOS 3.2 or later.
[James Savage is the host of the RetroMacCast a weekly podcast devoted to older Macintosh computers.]