Bump vaulted into widespread iPhone popularity by being the billionth downloaded app way back in April 2009 (my, we've come a long way, haven't we?). Since then, the "bump iPhones to share something" utility has gained features including text messaging and media sharing. Now Bump Technologies is back with a much requested feature: sharing app recommendations.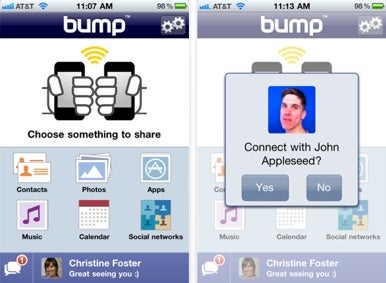 Upon opening Bump 2.4, you can select the new Apps option from its expanding toolbox of shareable items and pick one or more apps to share with another user via bumping.
As with similar app discovery utilities like AppsFire and Frenzapp, Bump is using a few clever tricks to discover your most recently used apps, but it will most likely not see every app you have installed or downloaded. A search box should help you track down any other apps you want to recommend.
Once you bump, your fellow Bump user will receive your custom tailored list of apps, each linking to its respective App Store entries. On its blog, Bump Technologies said this has been its biggest feature request lately, especially in light of the App Store's stock that is now north of 300,000 apps.
Also new in this release are improvements to the speed of texting and photo messaging. Bump 2.4 is available now for free in the App Store and it requires iOS 3.0 or later.