As a musician, I appreciate apps that help me be a better guitar player. And as a software developer, I appreciate apps that are well designed. So both of these reasons are why Agile Partners' $10 GuitarToolkit is one of my favorite music-related apps.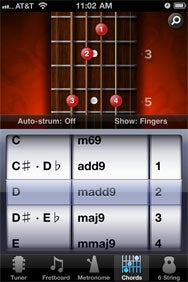 The app's interface is clean and simple, and provides several tools that any guitar player would find useful. They include:
Tuner
There's a large number of guitar tuner apps in the App Store, but I've found GuitarToolkit's to be the best. It's very sensitive and highly accurate. It can operate in chromatic mode or it can isolate notes based on your selected instrument and tuning mode. (More on that below).
Metronome
Besides simply counting out beats per minute, GuitarToolkit's metronome also lets you set the time signature, which then changes the stress placed on the beats. If you don't like the standard tick-tock sound, there are many others to choose from, including "The Dreaded Cowbell."
Instruments
The app lets you fine-tune its tools by instrument type. It defaults to six-string guitar, but you can choose seven- or 12-string, various types of bass, as well as banjo, ukelele and mandolin. Selecting an instrument defaults to its standard tuning, but you can choose from many common alternate tunings or create your own.
Fretboard
The Fretboard screen shows you the fretboard of your selected instrument in the tuning mode you've selected. You can strum the strings to sound the open notes. It also provides a "name-that-chord" feature" where you can simply tap on the fretboard to build a chord and the app will tell you the name of that chord.
Chords
The chord finder—which works hand-in-hand with the app's Instruments and Fretboard modes—is GuitarToolKit's most useful tool in my opinion. For example, if you want to know how to play a Dm add9 chord in second position on a seven-string guitar in an alternate tuning, simply select your instrument and tuning from the Instruments screen, then go to the Chords screen and dial in the selection. You can then use the mini-fretboard to sound the chord or let the app automatically sound the chords as you change them.
GuitarToolkit runs on both the iPhone and iPod touch, though the original iPod touch lacks microphone support, which is required for the tuner. So a smarter choice for that device might be the $6 "lite" version, which leaves out the tuner feature. GuitarToolkit also runs on the iPad, but the interface is not optimized for that device, which I would really like to see added, even at additional cost. The more I use the iPad, the more I appreciate having the extra display space, especially on apps like this where I might want to view the screen from arms reach.
At $10, GuitarToolkit may not be an impulse purchase for every musician. But everyone should understand that good software is not cheap, and you definitely get what you pay for. So I think that GuitarToolkit is well worth the sawbuck.
[Brian Beam is a musician, Robin Trower fan and partner with BOLD Internet Solutions, living somewhere near Kansas City.]