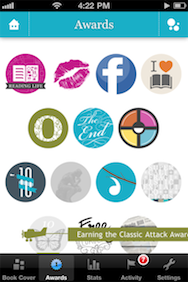 Kobo has updated its eponymous, universal iOS e-reader app with features that aim to make the reading experience a bit more social. While Kobo may lack the mindshare of Amazon's Kindle app, Apple's iBooks app, or Barnes and Noble's Nook app, the developers continue to add innovative new features.
Facebook devotees can now post updates about the books they're reading and connect with other Kobo-using Facebook friends. You can share excerpts from books, along with your favorite characters and places.
The app also now offers rewards based on your reading statistics (like how many pages or books you've read), and lets you track your personal reading history as well.
It's all part of a social initiative Kobo calls Reading Life. It's unclear just how many extras Kobo plans to build into its e-reading experience, but one can't help be reminded of a CollegeHumor Kindle parody from a couple years ago.
The Kobo app is free and requires iOS 3.1 or later.