At a Glance
Expert's Rating
Our Verdict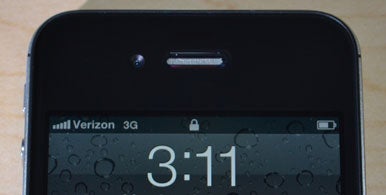 For such an eagerly anticipated product, the Verizon-compatible version of the iPhone 4 is awfully unassuming. With a few minor variations, it looks, feels, and works just like the AT&T iPhone 4 that's been available for the past seven months. Of course, if you're a loyal Verizon Wireless customer (or an AT&T customer who's been desperate to switch carriers), the only change that matters is the big one: the network itself.
That's why the story of this new iPhone 4 is really three stories. For those Verizon Wireless customers who have spent the past four years with their faces pressed up against the glass of the shop window, dreaming of a day when they could finally join the iPhone revolution, it's an introduction to the iPhone 4 itself. For existing iPhone 4 users, it's about the subtle variations in the hardware and software that make this iPhone 4 a bit different from the AT&T version. And for everyone, it's a tale of the two U.S. networks now supported by Apple—incumbent AT&T and newcomer Verizon.
The iPhone 4, again
What we said when we reviewed the iPhone 4 and its accompanying operating system in June 2010 is still true today. If you haven't considered buying an iPhone 4 before, read those reviews for all the details.
But here's the basic overview: the iPhone 4 is a slab of glass (both front and back) ringed by a stainless-steel frame. It feels like a remarkably solid slab of technology, thinner and narrower than previous iPhones. The fit and finish are immaculate; not a single thing about the iPhone 4 feels cheap.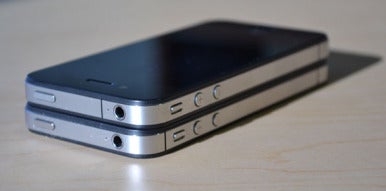 If there's a single feature that defines the iPhone 4, it's the device's high-resolution screen. Dubbed the "Retina display" by Apple, it's got a screen resolution of 326 pixels per inch, meaning that the average human eye can't even see individual pixels. The result is marvelous. Reading text is like looking at a printed page. High-definition videos and photos display tiny details. (Unfortunately, the iPhone 4 can't play back video at HD resolutions on an external display.)
The iPhone 4 comes with two cameras. The one on the back side is capable of shooting 720p video at 30 frames per second, or 5-megapixel stills. It's a very good camera, though the accompanying LED flash is generally not worth using, and there's no physical zoom. The second camera, located on the phone's front, offers a meager 640-by-480 resolution, as it's primarily meant to be used for videoconferencing. Apple includes FaceTime, a feature that allows video chat to other FaceTime-capable devices over Wi-Fi, on every iPhone 4. (Other apps can also take advantage of the camera.)
You can feel the iPhone 4's speed everywhere you turn. Apps launch in an instant. Switching between apps happens in the blink of an eye. That's because of the Apple-built A4 processor at the heart of the iPhone 4, which combines speed with impressively low power consumption. It's most definitely the best iPhone Apple has ever built, and since it was introduced, the company has sold millions of them— despite the hubbub over possible antenna interference issues.
Changes to the hardware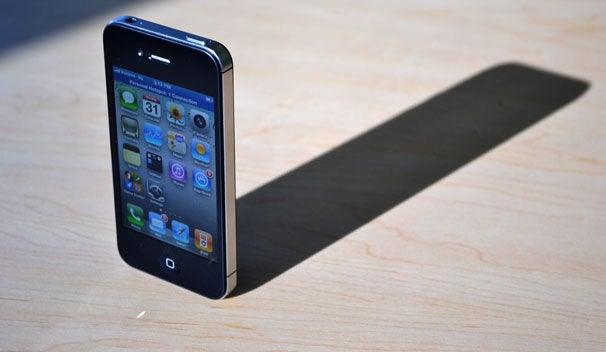 Those not well-versed in the ins and outs of mobile phone technology might think that the iPhone's AT&T-only status was merely a matter of an exclusivity agreement between the carrier and Apple. But that's not entirely true: there was an exclusivity deal, to be sure, but there were also serious hardware hurdles. AT&T uses a network system called GSM that's popular around the world, while Verizon uses a different system called CDMA. The two aren't compatible, so no amount of software hacking could get the iPhone to work on Verizon's network. It required a new version of the iPhone with new radios and antennas designed for CDMA networks.
That's what this new iPhone is: a redesign of the iPhone 4 that works with CDMA cellular networks. If you want to switch from AT&T to Verizon, you'll need a new phone. If you get this phone, you can't take it to AT&T later, nor can you roam internationally in as many countries, since CDMA is much less popular worldwide than GSM.
But the less said about wireless standards, the better. On to the hardware! Or to be more specific, here's a look at the extremely subtle changes Apple made in the iPhone 4 while adapting it to CDMA networks.
Compare the front and back of the GSM iPhone 4 and its CDMA counterpart, and you'll find nothing different. All the changes are along the edges, in that stainless-steel antenna ring. The black strips that break up the antenna are placed in different location on the new CDMA iPhone. The strip next to the headphone jack on the GSM model has migrated around the corner to the left side, just above the silent switch. (This has pushed the silent switch a few millimeters down. Extremely precise iPhone cases that rely on the silent switch being exactly where it was on the AT&T iPhone 4 may have trouble fitting this new model like a glove though case makers are promising a variety of Verizon iPhone-friendly offerings.)
There's also a new fourth strip, located on the top-right edge of the antenna band. The result is added symmetry: there are now four black strips, at top and bottom on both sides. For those who like to judge Apple's hardware design based on aesthetics, it's a subtly better look than the placement of the strips on the GSM iPhone.
The other blink-and-you'll-miss-it change in the CDMA iPhone's design is the elimination of the micro-SIM card slot from the device's right side. The SIM card is mandatory in GSM devices, but not in CDMA models. The CDMA iPhone comes with its own unique identifier, which Verizon uses to authorize it for service. This means that there's no way to exchange service on a CDMA iPhone by swapping cards with a friend, or to swap in a local card when you're traveling in a foreign country that offers a CDMA network.
A software step forward

The CDMA version of the iPhone 4 ships with a new version of the iOS, 4.2.6. Presumably the software is full of modifications that allow the iOS to drive the new CDMA radio hardware, but the only noticeable change in features available to regular users is the introduction of the new Personal Hotspot capability.
The Personal Hotspot, which allows the iPhone to share its cellular data connection with other devices, replaces the Internet Tethering feature available since version 3 of the iOS. Personal Hotspot offers three different ways of connecting devices to the iPhone. Like Internet Tethering before it, you can connect via Bluetooth or (using the iPhone's dock connector) via USB. What makes Personal Hotspot different is its third connection mode: Wi-Fi.
While only certain devices support Internet connections over Bluetooth, and many devices (most notably the iPad) can't share an Internet connection over USB, pretty much every device you can think of is capable of connecting to a Wi-Fi network—instantly making this feature much more useful than Internet Tethering.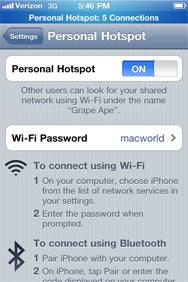 To enable Personal Hotspot for the first time, you'll need to go to the Settings app and select General -> Network -> Personal Hotspot. (Once you've done that once, though, Personal Hotspot will show up at the top level of the Settings app for easy access.) Note that this isn't a free feature, either—Verizon told Macworld that it will cost you $20 a month to use the wireless hotspot feature on top of your regular voice and data plans. (AT&T charges $20 each month for Internet Tethering, and the carrier is rolling out a mobile hotspot feature of its own soon.) On Verizon, you get a 2GB monthly pool of data for Verizon's Personal Hotspot feature; go over that amount and you'll pay another $20 per gigabyte.
There's only a single switch to turn Personal Hotspot on and off, and there's no way to differentiate between Bluetooth, Wi-Fi, and USB sharing—they're either all on or all off. (Well, that's not entirely true—if you've got Bluetooth turned off, the iPhone will ask you if you want to turn it on, and you can opt to share just via Wi-Fi and USB. Good riddance—Bluetooth can't transfer data as fast as the 3G network, so you're better off using Wi-Fi.)
The name of your Personal Hotspot Wi-Fi network is whatever the name of your phone is, as selected in iTunes. A handy note in the Personal Hotspot settings lists the name, in case you've forgotten. By default the iPhone generates a random password for the hotspot, but you can set it to just about anything by tapping on the Wi-Fi Password field and entering a new one. Below the password field are instructions on how to connect devices via Wi-Fi, Bluetooth, and USB.
Once Personal Hotspot is turned on, the iPhone's name shows up as an available WPA2 wireless network when viewed by other devices. You just connect to it as you would to any other Wi-Fi base station. I connected to my Verizon iPhone from my iPad, my AT&T iPhone, my iMac, and my MacBook Air, all without incident. When a device is connected to the iPhone, the status bar at the top of the screen turns blue and expands to double its usual height, with a note indicating that Personal Hotspot is active and listing the number of connections. (There's a maximum of five active connections; the iPhone will refuse all new connections until one of those five devices drops off.)
After 90 seconds without any devices connected to it, the Personal Hotspot shuts down in order to save on power. To re-enable it, I had to to enter the iPhone's Personal Hotspot settings, at which point the phone popped back up into the list of available Wi-Fi networks.
One of the pleasant surprises of testing the Personal Hotspot was its range. I was able to connect to the device even from a decent distance away. This isn't short-range networking; you should be able to set the phone down and roam around a room (or even an adjacent room) without losing your Wi-Fi connection. This should be great for hotel rooms without free Wi-Fi, for example.
One at a time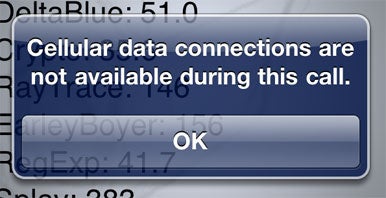 Adopting the CDMA cellular standard does force this iPhone 4 to take one step back—back to the days of the original iPhone, in fact. Unlike AT&T's 3G network, which can transmit data and voice simultaneously, the Verizon 3G network can only do one or the other.
That has a pretty serious side-effect: if you're using the Internet and your phone rings, your Internet connection immediately drops. (So does the Internet link to any device currently using Personal Hotspot, though the hotspot's Wi-Fi network itself stays alive.) Once the call goes to voice-mail or you hang up, the Internet connection springs back to life. For example, the live audio stream I was listening to on an iPad connected via the Hotspot started right back up after a call on the iPhone 4 concluded.
If this was an issue that only precluded you from checking your e-mail while dialed into a conference call, it would be a minor annoyance. But if you come to rely on the Personal Hotspot feature—say, sharing data with a couple of colleagues while on a road trip—it's got the potential to be infuriating.
Choose your carrier
With the hardware and the software out of the way, what remains is perhaps the biggest issue of all: the fact that this iPhone uses Verizon's network, rather than AT&T's. AT&T has certainly been widely criticized for its service and reliability issues over the last three-and-a-half years that it's been the iPhone's only service provider in the U.S.
But judging cellular carriers is a lot like real estate: it's all about location, location, location. There's no way for this review to tell you which carrier is better, because it will vary based on who you are and where you roam. A couple of our Macworld editors live in places with no AT&T signal but strong Verizon coverage; for them, moving to Verizon makes a lot of sense. Turns out I'm in the exact opposite situation: I get a fairly strong AT&T signal in my house, and data moves at fast 3G speeds. Meanwhile, I get one bar on Verizon, with no access to either 3G or even 2G data. The only way to truly judge which carrier is right for you is to talk to acquaintances who have experiences with either carrier and find out how the coverage is in the places you're most likely to use your phone.
Every year, our colleagues at PCWorld do try to test the various cellular carriers in multiple cities. They're currently working on new tests for 2011, which should be available in the near future. In 2010, they found that AT&T was generally fast and reliable. Of course, results vary from city to city, and since the carriers are upgrading their networks all the time, it's a moving target.
As for my personal testing in San Francisco, I found that Verizon's coverage was more reliable than AT&T's. My daily commute includes a bus ride through the heart of San Francisco's Financial District, and I've always been frustrated by the poor AT&T data coverage there. The Verizon iPhone was much more robust, allowing me to check Twitter, e-mail, and the Web without frustrating dead zones. That said, in my tests using the Ookla SpeedTest.net app, I found that data-transfer rates were noticeably faster on AT&T's network. Verizon's network provided me with an average of 614 kbps download and 507 kbps upload. AT&T, on the other hand, provided me with an average of 2879 kbps down and 1086 up. In other words, on average my AT&T data connections in San Francisco were four times as fast on the download and twice as fast on the upload.
But again, that's just me. Your city, even your neighborhood, may tell a different story. And for many people, reliability of service (no dropped calls, data when you need it) will trump speed.
At the event announcing this device, Verizon indicated that several of its network-exclusive features (such as VCast videos) would be available in the App Store. I wasn't able to try any of these out. (But on the positive side, Verizon's stuff is also not pre-installed on the phone as it is on so many other smartphones. This is Apple's iPhone, through and through.)
Macworld's buying advice
For all but the most discriminating user, the new Verizon version of the iPhone 4 is the same iPhone 4 we've known for the past seven months. If you're thinking of buying an iPhone and are unsure about which carrier to choose, you'd be well advised to talk to friends about coverage and dead spots near you, and to compare rate plans. If Verizon's network serves you better than AT&T's, you can finally make the move (though you may have to pay a fee to get out of your contract—that's something would-be AT&T switchers should check before committing to Verizon).
It's also worth keeping in mind the potential lifespan of this phone. Every year since 2007, Apple has introduced a new iPhone early in the summer. If that pattern follows, an iPhone 5 is less than half a year away. That said, if you waited for the technology world to stand still before buying something, you'd never buy anything. If you want an iPhone and need Verizon's service, you can now get both.
The bottom line: for the first time, iPhone users in the U.S. now have a choice of carrier. It's a good thing.
Editor's Note: This article was originally published in February 2011 when Apple released 16GB and 32GB iPhone 4 models compatible with Verizon's CDMA network. In October 2011, Apple pared down its iPhone 4 offerings to a single 8GB model that worked on either GSM or CDMA networks. This review—including its rating—applies to the 8GB iPhone 4 that's compatible with either Verizon's or Sprint's network.