Announced on Wednesday, The Daily was touted by its creators at News Corp. as a rethinking of journalism for a new audience and new technology. There's just one problem with the hype: Rupert Murdoch's new iPad newspaper closely resembles other—often unsuccessful—attempts over the last decade to "reinvent" the news. The only difference, from a user perspective, is that a few semi-new digital flourishes have been thrown into the mix.
This isn't a problem with the platform, per se. The Daily is well-designed, and as my Macworld colleague Jason Snell said: "I can see the $30 million they spent." The app's carousel menu makes navigating the news a tactile, pleasurable experience, and there's plenty of multimedia—audio versions of stories, videos to accompany stories, and stunning 360-degree panorama photos from major news events. There's even a nifty story commenting system that lets users express their opinions in 60 seconds of audio, recorded directly from your device. (Having moderated comments for a daily newspaper Website, though, I pity the poor News Corp. employees who will have to wade through all the audio files reported as "abusive" by other users.)
But we've seen most of this before. Every major newspaper Website features videos these days, and a number of them even make great use of big and panoramic photos. The Economist's app beat The Daily to the punch in offering audio transcripts of the written stories. All in all, the app isn't quite as innovative as Murdoch and Apple would have you believe.
Having built a kinda-new wineskin, Murdoch's wine seems awfully familiar … and underwhelming. With its breezy, pointed headlines—"Here we snow again, America"—The Daily strongly resembles News Corp.'s own New York Post . With its energetic coverage of sports, it is reminiscent of USA Today . With its emphasis on graphics and photos of beautiful people, The Daily seems like People or Us Weekly .
But in its overall mix—light on news, heavier on celebrities and jocks, every item short and punchy—The Daily most reminds me of two other attempts to save daily newspapers from hemorrhaging young readers: Red Streak and RedEye, two free tabloids that appeared in Chicago a decade ago, aimed at twentysomething commuters who, it was thought, weren't interested in news unless it was chopped up and dumbed down. There wasn't much there there, and the same seems to be the case with The Daily: Murdoch's reinvention of journalism looks a lot like the one before it.
(And, it should be noted, the "legacy" newspapers behind the RedEye and Red Streak—the Chicago Tribune and Sun-Times, respectively—have both been in bankruptcy in recent years. So much for reinvention.)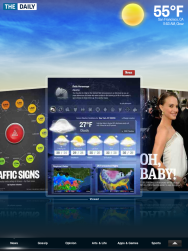 One of the clearest indications that The Daily is tied to old-school ways of thinking, though, is the presence of sudoku and crossword puzzles in the app. There are plenty of iPad offerings in both genres for dedicated puzzle-players, so it's perplexing to see The Daily duplicate those efforts instead of concentrating on what it should do best: news.
The Daily isn't a total disappointment. It seems most promising as a platform for advertisers: ads are quite easy to overlook on newspaper and magazine Websites, but on The Daily they fit into the natural flow of reading, and can grab your attention with eye-popping graphics. There is some promise here.
As a piece of technology, then, The Daily is promising. As a journalistic endeavour, though, it's confusing. Who is the intended audience? News junkies? Unlikely. New Yorkers? There's a Big Apple feel to the content, but the coverage is everywhere and nowhere all at once. Commuters? Why would they shell out a dollar a week for this when they can pick up a similar product, for free, off the rack in a subway kiosk?
This is kind of shocking, given the stable of smart and talented journalists recruited to launch The Daily. As it stands, though, there's only one clear reason that this iPad newspaper exists, and that's to put money in Rupert Murdoch's pocket. There are probably worse goals imaginable, but it's hardly compelling for news consumers.
[Joel Mathis is a freelance journalist and political columnist for Scripps Howard News Service. He lives in Philadelphia.]