Comcast's Xfinity TV app has been upgraded from a glorified remote control to a video viewer in its own right.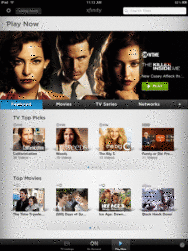 Version 1.1.1 of the app debuted Tuesday. The app now lets users—subscribers to Xfinity cable television service—view on-demand video from select broadcast networks, as well as premium channels like HBO, Starz, Showtime, and Cinemax. Users can only play the video over a Wi-Fi connection, and (though the app itself is universal to all iOS devices) only on an iPad.
In addition to the new video service, the Xfinity app retains some of its older features. The app lets viewers browse listings on their local cable system, and change channels on their TV via the cable box. Users can also use the app to remotely program their DVR.
Xfinity TV is free, and—video aside—compatible with devices running iOS 3.2 or later.