Sophiestication Software has released a major upgrade to Articles, its powerful and stylish Wikipedia client for iPhone.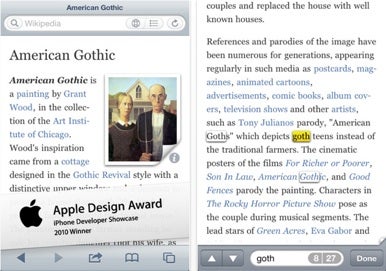 Articles 2.0 gained quite a few new features, including a bookmark system that lets you read articles later, the ability to search for text in the current article, and support for AirPrint. There is also tighter integration with Wikipedia, as the lightbox image viewer now displays captions and animated GIFs, and you can save images to your device's Camera Roll or copy them to the clipboard for pasting elsewhere.
The new version also supports various Wikipedia URL schemes including x-articles://, wikipedia://, and wiki://. This means you can click links that start with those prefixes (instead of http://) in other apps and Articles will open and present the corresponding article.
Plenty of other bug fixes and other minor improvements make for a solid upgrade. Articles 2.0 is a available now in the App Store for devices running iOS 4.0. For a limited time, Sophiestication Software has also reduced Articles's typical $3 price to just $1.