SRS Labs announced the latest generation of its sound enhancement hardware for Apple portable devices this week. The iWow 3D, designed to work in conjunction with the free iWow iOS app, is a dongle that you connect to your iPhone, iPod, or iPad's 30-pin dock connector, and then plug your headphones or 1/8-inch cable into the iWow's extended line-out jack.
SRS says the iWow retrieves and restores audio cues that are buried deep within the original source material to provide "an immersive three-dimensional sound stage with renewed depth and clarity," as well as deep bass ideal for music, videos, and games.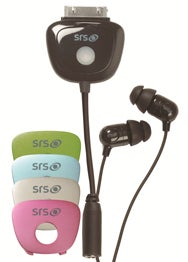 The product comes in two models. The $70 iWow 3D comes with the device by itself, while the $100 iWow 3D Combo includes a set of in-ear headphones and four faceplates (blue, green, pink, and silver) that you can swap in place of the standard black one.
The iWow app lets you choose whether you're connected to headphones, speakers, or a car stereo, and the advanced settings let you turn on and off any combination of Wide Surround, Deep Bass, and High Treble options. Although you can use the iWow HD with any dock-based Apple device in a simple on/off mode, the app obviously only works on the iPhone, iPod touch, and iPad.
The iWow 3D (listed at $50 on the SRS Web store) and the iWow 3D Combo (listed at $70) are currently shown as coming soon, although the press materials I received said the product should have been available by the end of January, and the company hasn't responded to a request for more information when this story was posted.