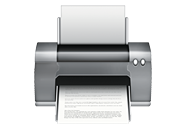 Got a Lexmark printer of any of a number of models? You'll want to run Software Update and grab the latest version of Lexmark printer drivers for Mac OS X.
Released on Wednesday, Lexmark Printers v2.4 for Mac OS X Snow Leopard includes the most recent drivers for Lexmark-branded printers; you can see the full list of supported models—of which there are frankly too many to count—at the link above. Non-Lexmark printer owners will have to console themselves by sighing wistfully. Or, heck, if you're a completionist, feel free to go and download them anyway.
The 139MB download requires Mac OS X 10.6 or later and is available both from Software Update and at Apple's support downloads site.