Simplenote, the app that, erm, makes it really simple to create, organize, and sync notes between lots of devices, has gained a major update with a respectable number of new perks.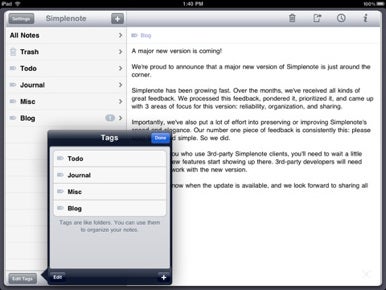 Leading the update is Dropbox syncing for premium subscribers. Until now, Simplenote has had its own built-in sync service that gives you access to your notes on other devices, but only browser access if you're on a Mac or PC. Users can still take advantage of Simplenote's syncing system, but Dropbox provides some advantages.
Michael Johnston, co-founder of Simperium (makers of Simplenote), explained to Macworld via e-mail that with the new Dropbox option, your notes sync to your Mac's Dropbox folder as text files that can be edited in your favorite apps, such as TextEdit or TextMate.
You'll need to log into the Web app to enable this option, and Simplenote will sync with Dropbox "every several minutes" for now. On Simplenote's blog, the company hints that its app may some day sync more often once Dropbox introduces new features down the road.
Also new in Simplenote 3.1 is another premium-only feature: support for lists. You can now turn any note into a list, edit list items inline, and drag-and-drop to rearrange them. The tags and sharing features also received some attention. Tags are now autocompleted and you can tag a note with a name to automatically share it with that person.
A slew of bug fixes round out a solid update to Simplenote 3.1, which is now available in the App Store. It requires iOS 3.2 or later and is a free universal app for iPhone, iPod touch, and iPad. A premium subscription costs $20 per year and—besides the aforementioned new features—adds better support, hides ads, provides an RSS feed, and more.
Updated at 3:22pm E.T. to clarify Simplenote's sync options and the name of the company that develops Simplenote.