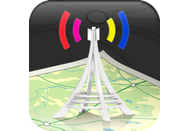 If there is one question that potential iPhone customers are likely to be asking themselves right now, it's probably whether they should pick AT&T or Verizon for their service. At least, that's what Sparkz Products must be hoping, given that it has just released CoverMe, a new iPhone app that can be used to check coverage for all major cell phone networks in a given location.
CoverMe works by overlaying the official coverage maps from AT&T, Verizon, T-Mobile and Sprint at a given location. The user can specify the place they want to look up by street address, ZIP code, or based on their current GPS location. The resulting display shows the nominal strength of each carrier's signal using a four-colour chart, and can even be e-mailed to a friend using an in-app interface.
It should be noted that the app doesn't test the coverage in real time, but, rather, reports it based on the official information provided by each carrier. Therefore, the quality of the results is no better than what can be obtained by checking a carrier's Website (which is an option also provided by CoverMe), although the app makes it easy to quickly access the right information. In addition, the app doesn't currently have information on what kind of coverage is provided—thus, while it's easy to tell whether a given carrier can provide basic service in a location, CoverMe can't yet tell whether, for example, it comes with EDGE, 3G, or 4G data.
Still, CoverMe could be a handy utility for people who are often on the move or shopping for a new residence or office. Given how important cellular coverage has become in our daily lives, it's good to know that finding out whether your carrier of choice can provide service in the locations that are important to you is as simple as firing up this app.
CoverMe requires an iPhone running iOS 4.0 or higher, and can be downloaded for free from the App Store.