Despite the iPhone 4's improved battery life over its predecessor, the demand for battery-boosting cases seems to be as strong as ever. Three of the seven cases in this week's roundup are battery cases that double the life of your iPhone while offering impact protection for your device. Cases with detachable bottoms have also been all the rage lately, since they allow for easy docking of your iPhone while its in its case. If neither battery nor two-piece case tickles your fancy, you could always go for one of Caze's Swarovski crystal-embedded luxury cases. Read on to get the lowdown on the week's new cases.
Caze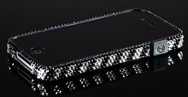 For those who feel the iPhone 4 is sorely lacking in the shiny-crystal department, Caze's Animal Print Swarovski frame case ($99) should remedy the issue quite nicely. The sparkling case features fashionable zebra and leopard print, and is composed of more than 500 Swarovski crystals that fully cover every corner of the case. Each case is designed and handcrafted one at a time in Caze's Tokyo studio, and comes with front and back screen protectors, a microfiber cleaning cloth, and a microfiber pouch.
Crelife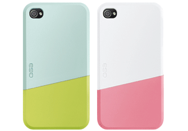 If you're looking for customizability, Crelife's Ego case ($35) gives you more options than most. For starters, the thin, two-piece case is sold in two separate parts, each with eleven colors to choose from. This allows you to mix and match colors to create your ideal case. Along with looking sharp, the Ego case offers high level impact protection—it's made from the same material (Lexan EXL) as ice hockey helmets—and sports a textured coating that keeps the case from peeling or flaking.
EFO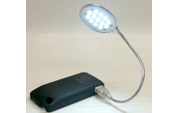 EFO's iPhone 4/4G Power Pack with USB output ($30) snaps to the back of your iPhone, adding only a few millimeters of thickness while more than doubling your battery runtime. The battery case is designed to prioritize power consumption, pulling power from the Power Pack first and thus maximizing the iPhone's internal battery. The case also features a USB output that can be used to power other USB devices, such as an LED light. In a pinch, the case can also serve as an emergency backup battery for other 5V devices.
iKit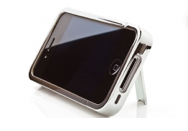 iKit's Chrome Flip Case ($35) is made of polycarbonate and soft rubber, and features an integrated stand that allows for hands-free viewing on any flat surface. A shiny, chrome finish provides a stylish flair, and the bottom of the case can be removed for easy docking.
iKit has also released the NuCharge case ($65), a battery case that's compatible with both the AT&T and Verizon versions of the iPhone 4. The thin, two-ounce case packs a 1400 mAh battery that doubles the battery life of your phone, and features a built-in kickstand so you can enjoy your extra battery life with some hands-free media viewing.
Moshi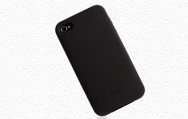 For the minimalist, Moshi's Puro 4 ($20) provides complete side and back protection for your iPhone. The inside of the case is coated with Moshi's trademark Terahedron microfiber, which helps insulate your phone from scratches and shock. Typical of Moshi's products, the Puro 4 boasts a sleek, minimalist design. It's available in just one color, which happens to be graphite black for this offering.
Padacs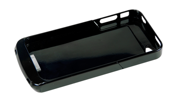 Padacs's PowerCase ($50) is a thin battery case that doubles the battery life of your iPhone while protecting it with a hard plastic shell. The case includes its own USB cable that recharges the PowerCase and iPhone 4 simultaneously and lets your iPhone connect to iTunes while still in the case.