Way back in late 2004, I reviewed Backdrop, a free utility that helped you take cleaner screenshots by letting you place a backdrop—either a solid color or the image of your choosing—behind what you want to capture, but in front of anything else. It was also useful for those times when you've got so many windows and palettes open that you can't focus—just stick Backdrop behind the current program and everything else goes away. It was a great utility, and, in fact, it did its job so effectively that I was still using it regularly until just a few weeks ago—over 6 years later.
The reason I finally retired Backdrop is that I've been using Desktop Curtain 2. The original version of Desktop Curtain was released in 2006, but the program is now available on the Mac App Store and has added a number of great features that make it a must-have if, like me, you frequently take screenshots. It's also more flexible than many of the utilities out there that aim to help you focus on a particular program.
(Many Tricks also provides a free version, Desktop Curtain Classic, that you can download directly from the company's Website. The Classic version is missing a number of the full-version's features.)
Desktop Curtain initially runs as a standard application that appears in the Dock, but you can configure it to appear only in the menu bar, or even to run as a "faceless" application. (I prefer menu-bar mode.) Whichever mode you opt for, you use Desktop Curtain's preferences window to choose your preferred background. You can drag an image into the image well, or use the Choose pop-up menu to quickly pick Desktop Curtain's default image (appropriately enough, a curtain), the Mac OS X default desktop, or any image on your Mac. If you use your own images, the menu includes up to ten recently used images, although it doesn't display each image's name—a feature I'd find useful, as I frequently use various iterations of OS X's stock Aqua Blue desktop images, and names would help me determine which was from Tiger and which was from Panther. You can choose whether to scale, tile, or center the chosen image.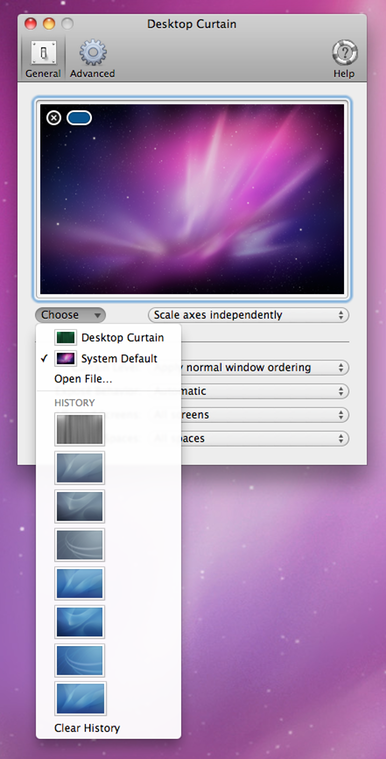 If you'd rather forgo an image in favor of a solid-color background, the process requires a couple steps. You choose the desired color by clicking the small color button in the preview area, which brings up OS X's standard color picker. But you must also "close" the currently selected image by clicking the small close (x) button in the preview area. I initially thought it would be easier if you could simply choose, say, a Solid Color option from the Choose pop-up, but Many Tricks explained that the reason the two actions are separate is to allow you to pick a background color if an image includes an alpha channel or doesn't fill the entire screen.
Where Desktop Curtain shines is in how it lets you activate and customize your "curtain." Using the program's Dock menu, menu-bar menu or—my favorite—configurable keyboard shortcut, you can instantly hide or show the Desktop Curtain background. I love that a simple keystroke lets me have a clean background for screenshots or makes all my onscreen clutter go away. If you have multiple displays or use OS X's Spaces feature, you can choose which screens and workspaces the curtain appears in.
You can also choose how the curtain behaves: as a normal window (so it can sit in front of, between, or behind other windows), as a desktop cover (so it covers everything on your desktop but stays behind windows), or as a traditional desktop background (so you continue to see all windows and anything on your desktop). You can also choose how the curtain interacts with OS X's Exposé feature: It can act as a standard window that embraces Exposé's various preview states; remain in place, so Exposé previews float over it; or hide completely when you activate Exposé. An Automatic option attempts to choose the ideal Exposé behavior, taking into account your Curtain Level settings.
Another feature I like is Desktop Curtain's News window, which is actually unrelated to program's own functionality. This window combines information about recent updates with help videos and links. (The program's Help documents are excellent, by the way.) The window appears the first time you launch Desktop Curtain; you can also access it at any time, and you can choose to be notified, via a menu-bar indicator, whenever new information is available. I'd like to see more programs offer such an easy way to get such information.
If you frequently take screenshots, Desktop Curtain 2 is ideal for staging those shots. It's also great for helping you focus on a single program, hiding the rest of your onscreen clutter, and I've even used it when giving a presentation where I had to perform on-screen demos—I hid everything behind the curtain except what I wanted people to see. It's quickly become part of my Mac toolbox.
(Disclosure: Former Macworld editor Rob Griffiths is now an employee of Many Tricks, the developer of Desktop Curtain.)
Want to stay up to date with the latest Gems? Sign up for the Mac Gems newsletter for a weekly e-mail summary of Gems reviews sent directly to your Inbox. You can also follow Mac Gems on Twitter.