From its unoriginal name to its groan-inducing plot, Namco's hidden-object/adventure game, The Stroke of Midnight, is about as cliche as it gets. The game's plot involves a tragic romance mystery set in a haunted castle complete with sliding bookshelves, bloody handprints, and ghosts decked out in Victorian-era fashions. Still, despite its cheesiness, The Stroke of Midnight is a compelling, addictive puzzle game.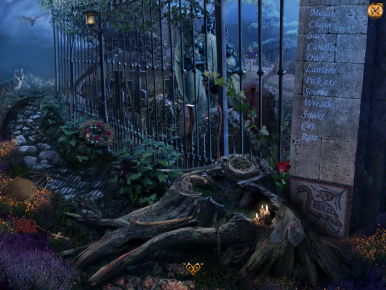 Stroke of Midnight follows the travels of a romance writer seeking to rekindle her creative spark—in a haunted castle, of course. The instant that the writer (you) reaches her destination, mysterious things start to happen—and by mysterious, I mean ghosts start appearing and start going bump in the night.
Gameplay is simple—and perhaps a little too easy. It's a puzzle game, and the most common type of puzzle is the hidden-object search. The hidden-object puzzles are particularly easy: if you get lost, just tap the name of the object you're looking for and voila, the object glitters and gives away its hiding place. There's no limit to using this "hint" process, either—you can do it with every single object and solve the puzzle in fifteen seconds flat.
The other puzzles range from laughable to cakewalks. The good news is that there are always instructions to be found if you hunt around (by tapping on things) enough, so it's unlikely that you'll get frustrated and give up. Puzzles include piecing together tiles, folding paper notes, and mixing ingredients to make medicines.
What really sets The Stroke of Midnight apart from other hidden-object puzzle games is the atmosphere and the storyline. The puzzles may not win any brainteaser of the year awards, but the story and graphics really do draw you in—I ended up playing the entire game in one go, just because I wanted to know what was going to happen. The graphics are gorgeously rendered and deep, while the soundtrack is convincing enough that I even jumped a few times at the spooky bumps and screams.
The Stroke of Midnight isn't the best puzzle game I've played, but it has one of the better storylines. If you enjoy tragic romance and getting lost in another world (without difficult puzzles getting in your way), then The Stroke of Midnight is an excellent diversion.
[Sarah Jacobsson is a frequent contributor to Macworld.]