At a Glance
Expert's Rating
Our Verdict
Audyssey's South of Market Audio Dock is a sleek, pricey speaker system for your iPod, iOS device, or even your Mac. The $400 unit sports both a dock-connector cradle and Bluetooth connectivity, and packs in plenty of features coupled with impressive sound.
The tall, curved, Audio Dock is all black with a surprisingly narrow footprint for a stereo speaker system—just 5 inches wide at its widest point. It's also 9 inches deep, 9 inches tall, and weighs 9 pounds. (Insert obligatory "to the nines" comment here.) On your desk or tabletop, the vertically-oriented unit resembles a massive reference book.
When it comes to onboard controls, Audyssey's approach seems to be to avoid buttons whenever possible, making me wonder just what Apple hath wrought. On the top of the unit is a backlit, touch-sensitive Play/Pause button that can also be used to put the Audio Dock in standby mode. (The system consumes only about a half-Watt of power in standby mode, but doesn't charge your iPod or iPhone in that state.) On the front of the unit, on the iPhone/iPod dock cradle itself, is a bar emblazoned with the Audyssey logo. Pressing the left side of the logo decreases volume, pressing the right side increases volume, and pressing the center toggles the Mute feature. (Pressing the center just right, that is—with practice, I could mute consistently, but it requires a stronger press than lowering or raising the volume.)
On the back of the Audio Dock, you'll find more-obvious controls. Near the top is a Bluetooth-pairing button you hold down for two seconds to enter pairing mode. Near the bottom is a "USB" button that currently does nothing—the manual indicates the port could one day be used to upgrade the unit's firmware. Below that is a hardware power switch.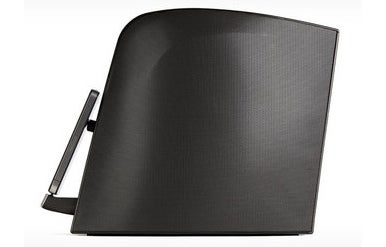 Back here, you'll also find a 1/8-inch (3.5mm) mono output jack (to use the unit's built-in microphone, for example, as a microphone for your Mac), a 1/8-inch stereo line-in jack for connecting an additional audio source (such as your computer), a power-cable jack, and a mini-USB port. You can use the USB port to sync your docked iPhone or iPod with iTunes. The Audio Dock ships with two 30-inch, 1/8-inch audio cables, a USB cable, and a power cable.
The included infrared remote control hosts eight buttons: Volume Up, Volume Down, Back, Forward, Play/Pause, Mute, Microphone Mute (for use during speakerphone calls—more on that below), and a Phone button (for answering or ending speakerphone calls). The Audio Dock cleverly sports two infrared ports—one on the front, and the other on the back—to give the remote greater side-to-side and front-to-back range. The remote's features work well, and I was able to use it from at least 20 feet away.
The Audio Dock employes two (left and right) 4-inch woofers, two (left and right) 0.75-inch tweeters, and four amplifiers—one for each speaker driver. The system's dock cradle doesn't use Apple's Universal Dock design, but it works with the iPhone 4, 3GS, and 3G; all iPod touch models; the 4th- and 5th-generation iPod nano; and the iPod classic. Of course, thanks to the device's audio-in port and Bluetooth support, many more devices will work with the Audio Dock, too.
So, how does the system sound? With my iPhone docked in the unit's dock cradle, the Audio Dock produced impressive audio quality. Audyssey boasts about a suite of technologies that the company says improves the Audio Dock's performance, and my ears agree. Bass presence is strong, without seeming unnecessarily loud, and the bass, midrange, and treble ranges all sound clear no matter what music you play through the speaker. If you want finer control, Audyssey offers a free iPhone app that allows you to tweak custom equalizer curves, Dynamic Volume controls, and more. (The app crashed quite a bit for me, but it did work.)
On the other hand, as a Bluetooth speaker paired with my iPhone 3GS, the Audio Dock performed just a hair better than the typical Bluetooth speaker system I've tested—Audyssey's audio wizardry seemed less able to work its magic. Part of the reason is likely that standard Bluetooth audio is compressed for streaming. Again, Bluetooth audio sounded better than average, but paled in comparison to the performance of the system with a docked device.
One advantage of Bluetooth connectivity is that the Audio Dock can be used as a speakerphone, and as such it works capably as long as you're positioned within a foot or two of the unit. The Dock features front- and rear-facing microphones that work together to assist with noise cancellation. The callers I spoke to through the Audio Dock knew that I was on a speakerphone, but all agreed that it sounded "better than most speakerphones." You can place and receive Bluetooth phone calls when your iPhone is docked physically; non-phone-call audio fades out and back in, just as if you'd taken a call while listening through headphones.
Macworld's buying advice
If you're primarily looking for a Bluetooth speaker system for your iPhone, there are cheaper and more portable options, as well as other great-sounding offerings that cost a bit less. But if you're looking for a high-end iPhone or iPod speaker dock, Audyssey's Audio Dock is definitely worth considering. It takes up a small amount of space but manages to provide very impressive sound.