Apple has spent some time improving the App Store search and installation experience. At least for now, though, the new features it added are only available on the iPad.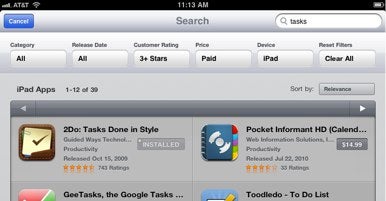 As MacStories notes, a few filters now appear in the iPad's App Store after you perform a search. Filters include criteria like category, rating, price, and device, and they make it easy to focus your results and find just what you're looking for. These only appear in the App Store on the iPad, though; you won't find them in iTunes or on the iPhone—at least not yet.
The second new feature in the iPad's App Store is better indication of previous purchases. While it doesn't have the same Purchases tab that the Mac App Store has, apps will now display an Install button instead of a price, making it clear that you have previously purchased an app and can reinstall it for free.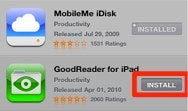 The iPhone, iPod touch, and iPad still display a grayed out "Installed" button on apps that are currently on the device. But this new tweak should help users distinguish between truly new apps and apps they have already paid for.
These perks should appear on your iPad without any software update from iTunes, as much of the App Store is essentially a Website wrapped in an app. This allows Apple to make changes and add some features on the fly. We'll let you know if and when these features make it to smaller iOS devices and the iTunes App Store.