Editor's Note: The following review is adapted from Five Star Apps: The Best iPhone and iPad Apps for Work and Play by Glenn Fleishman. (2010, Pearson Education and Peachpit Press).
Airline terminals seem designed to confuse, and perhaps they are. If we could see clearly how dreary it is waiting between flights maybe we'd fly less. GateGuru from Mobility Apps clears away the mist before our eyes, offering maps and amenity details for several dozen airports.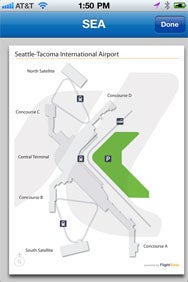 Airports are paired with information divided by terminals; if you don't know which terminal you're in (part of the airport's design, sometimes), tap Entire Airport, and then tap Map in the upper right corner.
If you pick a specific terminal, you see the amenities offered, as well as special offers from restaurants and clubs. Each terminal's detailed map is available, too. ATMs, restaurants, newsstands, bars, and other useful points of interest are paired with reviews left by GateGuru users. The reviews can be helpful in guiding you to a decent meal or an ATM without a huge surcharge.
GateGuru doesn't store trip information, but can connect to Gowalla, Kayak, and TripIt to load itineraries, making it simpler to jump to the airport you're at without searching. It also provides a link to Foursquare that you can use as part of the app's "check-in" feature. This feature lets you participate in contests, or score on a leaderboard. Because your check-in can be broadcast to one or more social-media sites all at once, travelers may use it as a simple tool to post their current terminal location.
[Glenn Fleishman is a frequent contributor to Macworld.]