Last week, as part of our Macworld 2011 coverage, we put together a series of videos highlighting unique and interesting products on the show floor. (You can see some of the fruits of these labors in the Macworld Video feed.) Though the tools for shooting and editing have gotten better in the last few years, it remains a challenge to figure out how to put these pieces together on the fly—so many things can (and will) go wrong.
With the right equipment and planning, however, you can leave the stress of the event behind, and focus on the show itself. Here are a few tips we've found that work (and some that don't) when shooting video on a show floor—or in any fast-paced crowded environment.
Plan ahead
As someone who often falls victim to procrastination, I can't emphasize this enough. When you're heading into any kind of high-stress environment, it's always best to have a plan going in. Without it, you'll spend more time worrying and delaying your shoot than actually producing content.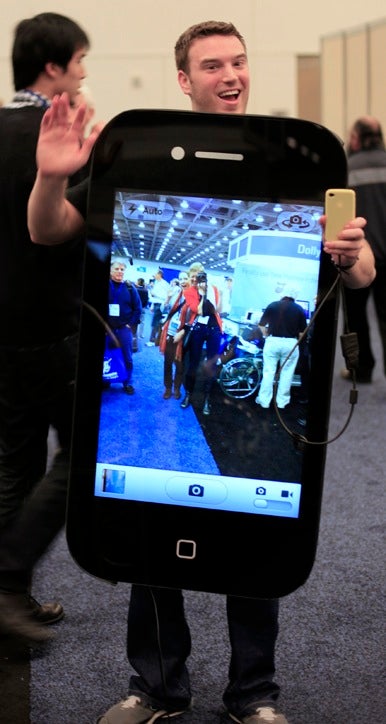 Crew and equipment: The first thing you'll want to figure out ahead of time is your workflow. How many things do you want to film in a day? What equipment are you using? Do you have a crew, or is this a one-person affair? How do you want to format your end product? It's incredibly important to have—at the very least—an oral plan for all these factors, if not one that's written down.
Crew, format, and equipment are the biggest questions you'll want to settle ahead of time, as they dictate what your needs will be. For instance, if it's just you manning the camera, you probably won't be able to do any kind of on-camera work yourself without a tripod (or a willing stranger)—neither of which I'd recommend using on a show floor. If you're working with a crew of two or more, then you're able to have more flexibility in what you shoot.
Find a format: After you've figured out your crew needs, you'll want to nail down your format as soon as possible. If you're shooting news, it's usually best to have a stock open and close to your videos, for uniformity. On-the-floor broadcasts are often chaotic, and without any sort of introduction, your viewer may not understand what's going on. (Look no further than some of the videos produced every year at trade shows like CES for an example of this.) Even if it's just a simple voiceover where you say, "Hi, my name's Serenity, and I'm here to see [this product]," you'll be making it clear to your audience what they're looking at. Remember: even if it feels like you need to rush—and it will—it's always good to take the extra five minutes and increase production quality. You can't break a story if your viewer doesn't know what you're showing them.
On that note, if you're coordinating multiple groups who are going to be filming simultaneously, and you want the eventual video output to look similar, make sure everyone's using similar equipment and has been briefed on proper piece structure. You can't be everywhere at once on the floor—do your homework ahead of time so you don't need to be.
Workflow is key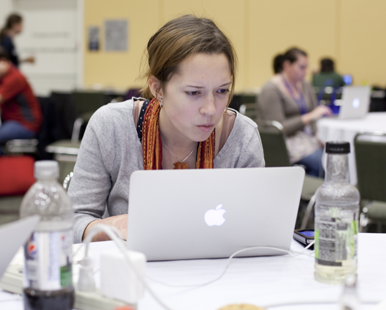 When considering format, you'll also want to consider your workflow and equipment. When we shot at Macworld 2011 this year, I was lucky enough to have a cameraman and an editing studio off-site for some of our spots. We decided to film our coverage two ways: for longer, more in-depth spots, we used his gear—an HD camcorder, lavalier mic, and camera rig—while for our shorter, 30 second clips, I had another crew member—intrepid Macworld intern Stephanie Kent—wielding an iPhone 4.
Our process went as follows: the cameraman and I would shoot for three hours in the morning, then he would return to the office and put these more-produced clips together while I continued to scour the floor for material and shoot those shorter spots. For post-production, we had two separate work-stations going: I had an iPhone and my MacBook Air to produce quick turn-around pieces on the scene, while he was putting the more-produced segments together in his studio off-site.
While it's nice to have someone taking care of post-production off-site, chances are you'll rarely get this opportunity when covering a show. More likely, you'll be carrying all gear on the show floor, then running up to a spare room—or, if you're lucky, a press office—to put everything together. Therefore, when you're deciding how to shoot your coverage, keep these suggestions in mind:
Pack light: Sure, a spot filmed with a HD prosumer camcorder and recorded with an external boom microphone will look and sound great, but unless you have a decently-sized crew willing to carry equipment, you'll be weighed down and miserable by hour three. On top of that, the more complicated your gear, the longer your post-production process will take (and the larger your file sizes will be).
Plan around three things: your crew size, carrying capability, and final product goal. If you have a small crew and you're going to need to tote around your editing studio, keep your equipment light and simple. In the last few years, small HD camcorders, video-capable DSLRs, and smartphones have undergone a dramatic increase in image quality; if you're just looking to shoot 15-second spots, you can easily trade the slight drop in quality for the convenience.
Sound is the most important thing: In my experience, viewers will put up with degraded image quality (thanks in no small part to YouTube), but they won't put up with inaudible sound. To make sure you don't fall victim to this trap, remember these two things: trade shows are noisy, and most portable camcorders have very poor microphones. We initially tripped up on this when shooting our first video by holding our iPhone 4 too far from the person speaking; as a result, we had to record a separate voiceover to be laid in during post-production, which delayed the segment and required an additional hour or so of audio rejiggering. While we avoided any further audio mishaps by holding the camera closer to the subject, the next time I work with an iPhone or Flip camera, I'm investing in an external microphone or mic adapter.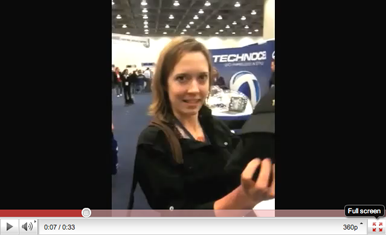 Vertical video is vertigo-inducing: When you're shooting on any portable camcorder or camera phone, your first instinct is to shoot in portrait (or vertical) mode. It's how we hold our phones on a daily basis, after all. Unfortunately, tall-screen video has yet to be accepted as a valid YouTube embed form, so unless you prefer your video small and surrounded by black bars, you'll probably want to flip that camera into landscape orientation.
Make a script: In an ideal world, you'll have time to learn about the products or events you'll be filming before heading out onto the floor. Unfortunately, more often than not, you'll end up having to think (and be briefed) on your feet. Even if you don't know anything about the product or the field, you can keep bumbling takes to a minimum by creating a basic "fill in the blanks" script to stick to. When covering products, for instance, make a list of what you want to mention in the video—name, features, ship date, and price—and create a basic template incorporating all of these. One of the structures we used read something like this: "We're looking at the [product name], available at [booth name/company]. The [product name] has [x, y, z features]. It's available [when?] from [where?]. You can learn more information [where?]."
If you're going to be talking on-camera about a product or field you aren't familiar with, don't be afraid to ask questions from PR representatives or employees on-hand. It's their job to know about these matters—use their knowledge to your advantage. If it's a product that's technically complex, make a written list, and record coverage of the product while you provide a voice-over. Don't be afraid to break the information up into multiple takes if you can't get it out all at once; it's easier to stitch together shorter coherent clips than to try and compensate for one long error-filled take.
Keep post-production simple: Know ahead of time what format you're going to need to post your videos in, and prepare your computer accordingly. For our short iPhone videos, we wanted to focus on quick-hit pieces that required just a few cross-dissolve clip stitches, so I ended up creating a project template in iMovie '11. We initially debated the merits of using iMovie for the iPhone, but eventually decided against it, as we needed finer audio controls than those available within the app. Additionally, our videos needed to be in a variety of formats for uploading to our Website; as such, it made more sense to do our post-production on the computer. Were we simply uploading to YouTube with no concerns about sound, the app would have been a better fit.
Our process went as follows for the short pieces: shoot what we could on the show floor with the iPhone, then head on up to the Expo media lounge with a MacBook Air to upload and edit the video with iMovie. The Air—Apple's 11-inch "ultimate" model—proved more than competent for this sort of work, and kept my shoulder free of pain that my 15-inch MacBook Pro would most certainly have inflicted. If we were editing longer videos, the computer might have slowed down during the transcoding process, but by focusing on creating shorter clips, we avoided this problem. Once the editing process was complete, we encoded the video and dropped it on our server, where our ace senior Web producer Curt Poff made sure it got uploaded to our Website.
Obviously, your editing workflow will vary wildly depending on the situation, but preparation and advance planning can keep you organized and in control. Even if you're stuck being a one-person post-production machine, you can make the best of it by solidifying your process early on and keeping it as basic as possible.
Don't stress out
Shooting in a live video environment is harrowing. When you're out on a show floor with a camera crew—or even just your iPhone and a microphone—you have to be present and "on" constantly. People will gawk at you like they do the products. You'll have to deal with wading through crowds to talk to a representative or get that perfect shot. That said, it's important to remember that live filming is a marathon, not a sprint—you don't have to let yourself get overwhelmed. Take breaks, drink water, and—while it sounds like a silly thing to put on a reminder list—make sure you eat; otherwise, you'll find yourself light-headed and losing words. In the end, despite the frustration and the stress, if you remain patient and flexible, you can expect to have a great time making great videos.
[Serenity Caldwell is a staff editor at Macworld.]
16GB iPhone 4 (GSM, AT&T)
Price When Reviewed:
$485