Just when my unnatural infatuation with all things Harry Potter started to die down, Feral Interactive had to go and release an even more interactive way of experiencing life through the eyes of The Boy Who Lived. This kid-focused action game transports players right to the heart of the story about a young orphaned boy who learns he's actually a wizard. One of the first big titles to hit the Mac App Store, Feral Interactive delivers a terrific port of a fun game.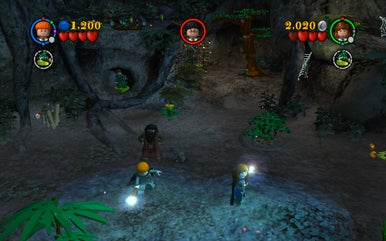 Players lead Lego-ized Harry (along with his friends, pets, and enemies) through his first four years at Hogwarts School of Witchcraft and Wizardry. The game is broken up into levels that resemble memorable chapters from the book series, and at the end of each year, of course, is Harry's life or death facedown with Lord Voldemort. At first, you must complete each level in Story Mode, which requires you to follow a ghost who leads you through the school grounds to different levels. After, you can go back through the level in Free Play Mode, which permits you to unlock new areas and find hidden rewards.
The game is visually reminiscent of the Warner Brothers film adaptation of the book series: grand, ornate, and haunting. While the 3D images are solid visually, there are some major pathfinding and camera issues that plague the maze-like school. This never happened in moments of battle, where it was imperative that I had great vision, but all the same, it's never impressive to have the feeling you're wandering blind through a spot in a game. Still, the developers did a fine job of creating a world that pays homage to the scenery that Potter fans love, yet manages to include a quirky Lego playfulness as well. For instance, in the midst of a level inside the gothic-inspired halls of the school, the background is filled with silly portraits that come to life and confused students trying desperately to master new spells. This juxtaposition makes for a game that's not only charming, but also uniquely Lego.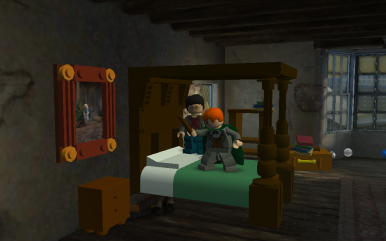 The game also succeeds in integrating the character's magical abilities creatively. Of course Harry and the gang are going to use their wands to fight off monsters in the Forbidden Forest, but one of my favorite aspects of Lego Harry Potter was the use of magic in ordinary circumstances. Clearly, you expect to use your wand to zap bad guys. But the game also features more creative uses of magic (like levitating large blocks into position to be used as a staircase, for example). This game nails the delicate balance between using magic in practical circumstances and performing outrageous spells. That is, you'll spend just as much time performing simple spells that help you to navigate through the halls of Hogwarts as you will brewing elaborate potions that will assist in your Lord Voldemort battles. This is advantageous in that you never really have time to get tired of the mundane activities or overwhelmed by the trickier maneuvers.
While swapping between characters and zipping around on broomsticks is all great fun, the fact remains that Hogwarts is a school, and you'll have to spend a decent amount of time in Lego Harry Potter inside of a classroom, cultivating your wizardry talents. During classes, professors will teach a spell, charm, or potion, and you'll have to complete a task to prove you've mastered it. For instance, when players find themselves in the dungeons during Snape's lecture on Strength Potions, you'll have to collect all the ingredients from around the room, bring them to a bubbling cauldron, and take a sip. After demonstrating that it works by pulling a heavy chain, you'll have unlocked that potion to be used later on in the game. All spells that are unlocked are stored in a menu in the upper right corner of the screen where players can easily switch through them.
Another way the developers managed to keep the (rather long) game fresh and interesting is by granting players access to nearly every character from the book series. In addition to unlocking dozens of characters, you're also free to create your own Lego witch or wizard. As for the preexisting characters, it's handy to switch between them while playing because they all have unique skills. Harry, for instance, is best at riding a broom, while there are certain points in the game that can't be completed without Hagrid's strength. Typically, (though it depends on the level) you can control two players at a time, and a third trails along close behind so that you can switch to use his or her powers quickly when needed.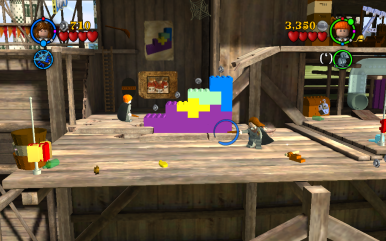 While it's nice to be able to switch between characters, sometimes it feels a little crowded to have Ron or Hermione trailing around behind Harry. Though it seems small, the crowded party slowed me down immensely while playing through some of the more challenging platforming sections. Since you can't control these spare characters, they often get in the way when you're trying to jump, and a few times, Ron was on the receiving end of a nasty spell meant for snakes and spiders. Other than the visual effect of Harry, Ron, and Hermione running around Hogwarts together, I can't see a reason to have the static characters constantly tagging along.
The Mac and iOS versions of Lego Harry Potter Years 1-4 are quite similar overall. Identical cutscenes and scenery make appearances in both of the games, but the Mac version is much faster paced. On the iPhone and iPad, you perform spells by tracing their unique shape on the screen. This takes you out of the action a bit, which is why I prefer the Mac game, where you flip through a menu of spells, select one quickly, and fire it in the desired direction.
Lego Harry Potter Years 1-4 is entertaining to look at, has hours of gameplay that somehow still feels fresh, and its just plain fun—especially for younger players who already in love with the cast of characters. Additionally, I found that the game ran well on my 2.4GHz iMac Intel Core 2 Duo with quick load times and no glitches to speak of. The game is so dense with characters, spells, and magical objects that I found myself uncovering new aspects of each segment nearly every time I revisited. Lego Harry Potter really captures author J.K. Rowling's sense of exploring a new, magical world where the limitations of living among the Muggles can be left behind.
Macworld's buying advice
Again, I love the sense of humor Lego brings to its series of games. From Ginny tormenting Tom Riddle to Harry mooning Ron while wearing the invisibility coat, the game brings a certain playfulness to the Harry Potter brand. Despite some minor camera and pathfinding issues, Lego Harry Potter Years 1-4 is a blast to play, particularly for those who are already familiar with the franchise.
[Stephanie Kent is an editorial intern for Macworld.]