Since Apple opened up the iOS platform to third-party developers in 2008, the ensuing Macworld Expos have become a showcase for mobile app makers. Last month's Macworld 2011 was no exception—we counted around 60 exhibitors crammed into the Mobile Apps Showcase on the Moscone West showfloor, each trying to garner attention for their goods and services.
We profiled many of the apps and app makers during Expo week, but that doesn't mean there weren't a few more apps that deserve your attention. Before we file away our Expo notebooks for another year, here's another look at some apps that made news at this year's trade show.
Peterson Birds takes flight
Expo served as the first public showing for Peterson Birds of North America, a $30 universal bird guide that arrived on the App Store in December. The app takes the illustrations and writings of naturalist Roger Troy Peterson and combines them with content from multiple Peterson Field Guide books to create a comprehensive tool for identifying and chronicling the birds you spot.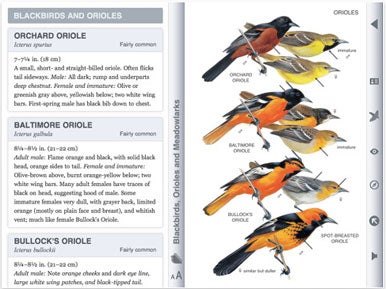 The app's approach is to display bird species by family, showing similar birds on a single screen. Illustrations using the Peterson Identification System—arrows that point to field markings—help users tell the difference between similar birds. You can also compare bird songs and range maps to pinpoint the differences between a Bullock's oriole and a spot-breasted oriole. The app offers a number of ways to log what birds you've seen and where and you've spotted them, including multiple kinds of checklists.
During a demo of the iPad version on the Expo showfloor, I was struck by one feature in particular that helps Peterson Birds users identify what they're looking at. When playing the song of a particular bird, the app will sharpen the focus of that bird; the other birds on the screen fade into the background, making it easier to focus on the task at hand.
The app looks gorgeous on the iPad, but Appweavers president Nigel Hall concedes that the iPhone version needs a little work, as the focus with the 1.0 release was placed on the iPad implementation. Fortunately, Appweavers plans an update for the app this month that should improve the interface on the iPhone version of the app. In addition, the update will give users the ability to add photos of birds they've taken and stored on their iOS device's camera roll to the appropriate entry in Peterson Birds of North America.—Philip Michaels
Pointer apps monitor snoring, babies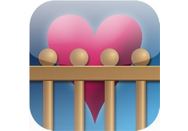 Pointer Software took to the Macworld 2011 showfloor to help attendees sleep better. The company demoed Snoring U, an app released last year that listens while you sleep and tries to "nudge" you back into silence if you start cutting noisy Z's.
When the app detects snores—and it uses technology to avoid getting confused by coughs or other non-cyclical, rhythmic sounds—it can vibrate and/or sound an alert of your choosing. New in the app is the ability to record your sleep sounds all night long, which you can then listen to. (This feature isn't advertised as combatting insomnia, but you never know.)
Pointer also showed off a newer app called Baby M. Using the same technology as Snoring U, Baby M plays a lullaby when it detects your baby crying. It does not change diapers.
Baby M is free for a limited time; Snoring U costs $6. Each is universal and requires iOS 3.0 or later.—Lex Friedman
Putting Writepad to work
Nothing helps emphasize an app's utility like having someone on hand to explain how they use it on a daily basis. App maker PhatWare couldn't have have asked for a better spokesperson for its WritePad app than 16-year-old Fallon Jones. The teenager from Washington state was on hand at Expo last week to show how the mobile handwriting recognition app helps her write novels.
That's right—the 16-year-old is a novelist, having already published her first book, finished writing her second, and just started working on her third. And the iPad version of WritePad plays an important part in her writing process.
Jones can use WritePad's handwriting recognition capabilities to write out chapters with the touch of a finger. She uses the app's customization tools to pick different themes and colors for settings—one color for chapters set at night, for example, and another for interior scenes. She finds the iPad a lot lighter to carry around the notebook. "And I don't have to worry about losing my iPad because I can back up everything to Dropbox," she added.
Whether in its iPad or iPhone forms, WritePad requires some use before you get comfortable with its handwriting recognition tools and gesture-based commands—about five hours worth, developer Stan Miasnikov told me at Expo. But WritePad offers users an extensive array of tools—a shorthand feature that fills in frequently used words or phrases, a built-in spell checker, the ability to print and export documents to PDFs, and more. The same handwriting recognition technology in WritePad also appears in PhatPad, PhatWare's $8 brainstorming and collaboration tool which the company also showed off on the Expo showfloor.—PM
iStudiez Pro to jump from iOS to Mac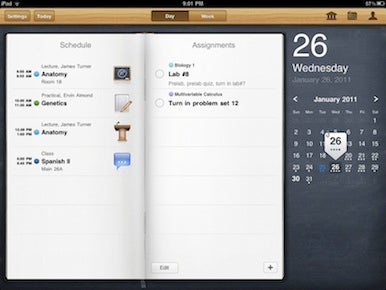 I don't miss school too much—I'm happy to have long ago left behind the homework, the cliques, and the math. But were I still a student, I'd go gaga for iStudiez Pro. It's a $3 universal iOS app focused on helping students organize their studies.
It's a calendar (with iCal integration), a to-do list manager, a grade organizer, a teacher organizer, and more, and it's beautifully designed. And at Macworld 2011, the team behind the app previewed a forthcoming desktop version of the app, coming soon to a Mac App Store near you.
The desktop and iOS versions of iStudiez Pro sync wirelessly via the cloud so that each version is always up to date. Pricing for the desktop edition hasn't edition hasn't been settled upon yet, but the company suggests it will land in the $10 range.—LF
Dorling Kindersley to add more iPhone travel guides
Publisher Dorling Kindersley has already brought five of its Top 10 guidebooks to the iPhone and iPod touch. In March, that figure will double.
The DK Top 10 apps—currently available for $5 each for Barcelona, London, New York, Paris, and Rome—are mobile versions of the company's list-based city guides. DK's apps give you an overview of things to say and do, where to eat, stay, and shop, and other lists to help you plan out a trip. The apps come preloaded with city maps, saving users from having to download data when they're traveling.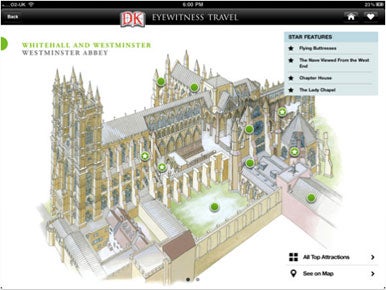 Dorling Kindersley plans to add guides for five more cities. Look for those iPhone and iPod touch offerings to appear in the App Store in March.
iPad users have Dorling Kindersley apps of their own to aid in their travels. The company publishes three iPad-optimized DK Eyewitness guides for London, New York, and Paris. In addition to hotel, shopping, eating, and entertainment data, the $17 apps include offline maps and 3D cutaways of notable buildings and points of interests that you can tap and zoom for a closer look. (The London version of DK Eyewitness is on sale for $8 as of this writing.)—PM
Vector maps coming to City Maps 2Go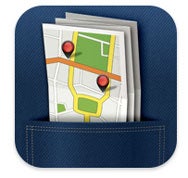 With its universal City Maps 2Go app, Ulmon Solutions wants to help iOS device owners find their way around cities across the globe. And with the upcoming 3.0 update, Ulmon wants those maps to provide greater detail.
At Expo, Ulmon was previewing version 3.0 of City Maps 2Go. The app, which is optimized for the iPad as well as the iPhone and iPod touch, provides offline access to around 2600 maps. Users launch the app and download any map they want for storage on their iOS device. That lets City Maps 2Go users consult their mobile maps without racking up roaming charges for downloading data in a strange city.
The 3.0 update, due in a few weeks, introduces a new vector maps feature. Ulmon says the new map engine technology renders maps directly on your iPhone, iPod touch, or iPad, adding more zoom levels and shrinking the size of the files. An old 30MB map of San Francisco, for example, takes up just 4MB thanks to vector mapping. The effect on an iPhone 4 or a fourth-generation iPod touch with a Retina display is quite striking as well.
Ulmon is looking to attract new users to the coming update by cutting the price on the current version of City Maps 2Go (making the 3.0 update free). Normally $2, version 2.0 of the app is selling for $1 as of this writing.—PM