Do you find yourself sending the same SMS messages to people over and over? Maybe it's a quick note telling your wife you're running late or a group message to a group of pals about where to watch the game. If so, Sky Balloon's Canned may be very helpful.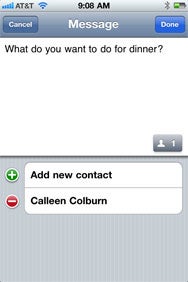 Canned allows you a keep a list of pre-composed SMS messages that can be sent with one tap. You can have the message sent to one person or a group; anyone can be added or removed at any time. The message composition screen looks very similar to what you get with the iPhone's default Messages app, except that contacts are added on the bottom.
When it comes time to actual send the message, Canned takes advantage of iOS 4's new in-app SMS feature, so an in-app SMS pane actually slides up from the bottom (much like apps that use in-app email), and it fills in with the contacts and message. All you need to do is hit send.
Keep in mind, Canned is not an alternative to Messages—it works alongside the built-in app. SMSs you send from Canned show up in the Messages app, and after they are sent, all further replies show up there. In other words, don't confuse Canned with one of those third-party offerings aimed at helping you beat the high price of texting.
So if you send the same SMSs over and over again, or if you have a large group of people that you occasionally message, Canned can be a helpful, familiar-feeling time-saver.
[Macworld contributor Beau Colburn lives in Brooklyn, NY and posts iPhone photos on his site Snap different.]