Canon announced two additions to its entry-level DSLR camera line on Monday: the EOS Rebel T3i and EOS Rebel T3.
EOS Rebel T3i: Lightly upgraded entry-level DSLR
The higher-end T3i ($800, body only) differentiates itself from the existing T2i model with some mild feature additions. The T3i will have an articulating LCD screen, built-in transmitter for external Speedlite flashes, and improved in-camera help guides, including one that explains the camera's features. The T3i is not replacing the T2i in Canon's line-up—the popular T2i will continue to be available.
These new additions may not sound like much, but being able to flip-out and swivel the 3-inch, 1,040,000 dot LCD screen is a key feature for anyone who plans on using the camera to shoot HD video. For photographers who are just learning the essentials of using a DSLR, the improved Quick Settings screen, new features guide, added in-camera creative filters, and enhanced basic modes also make this new model more alluring.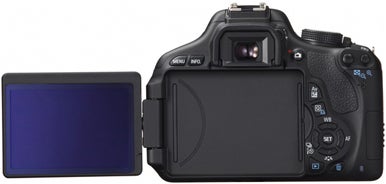 Other specs for the T3i remain the same as the T2i: It has an 18-megapixel CMOS sensor, 9-point autofocus, and a maximum ISO of 6400. Like the T2i, it shoots full HD video, though it adds a digital zoom feature in video mode.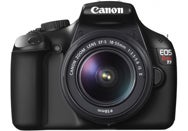 EOS Rebel T3: Affordable DLSR covers the basics
Also announced was the 12-megapixel EOS Rebel T3, the most inexpensive and basic DSLR in Canon's line. The T3 can shoot 720p video, has 9-point autofocus, and features a maximum ISO of 6400. The T3 will be sold bundled with an 18mm to 55mm lens for $600. Like the T3i, the T3 has an in-camera features guide to help beginners get acquainted with the camera and basic photography concepts.
Both the T3i and T3 will be available at the end of March.
Canon also announced a handful of new DSLR accessories. There are two new Speedlite flashes, the 320EX and 270EX II, and two new IS telephoto lenses, the EF 500mm f/4L IS II USM and the EF 600mm f/4L IS II USM.