Pentax on Monday released two new rugged Optio compact cameras, a silver limited edition version of its popular K-5 DSLR, and a 25mm lens for its 645D medium format camera.
Optio WG-1 & WG-1 GPS: Rugged and pocketable point-and-shoot
The latest additions to Pentax's adventurous Optio series are the 14-megapixel WG-1 and the WG-1 GPS compact point-and-shoot cameras. These colorful pocket cameras are built to be used and abused in the great outdoors—even more so than the previous rugged Optio model, the W90. The cameras are two versions of the same model: the $350 WG-1 in black or purple, and the $400 WG-1 GPS, which just adds GPS capabilities and is available in black or yellow/green.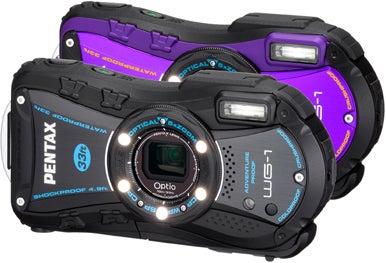 The WG-1 and WG-1 GPS can withstand both the elements and above average amounts of physical abuse. To defend against mother nature, the camera body is rated waterproof down to 33 feet, dustproof, and able to withstand freezing temperatures as low as 14° F (10° C). It is also designed to withstand dropping from up to five feet, and crushing under as much as 220 pounds.
Inside this sturdy little package is a 14-megapixel camera with a 5x optical zoom lens (28mm to 140mm). It can shoot 720p HD movies, and has a fixed 2.7-inch non-glare LCD screen. Other specs include digital shake reduction, an HDMI port, face detection, and five LED lights around the lens to help when shooting in Macro mode. In addition to all these features, the WG-1 GPS model can also track your location and log it in a KML file on the memory card.
The WG-1 and WG-1 GPS will be available in April 2011. A separate waterproof IR remote will also be sold separately for $30.
Limited Edition K-5: Silver version of the K-5 DSLR and lenses
Pentax's is rolling out a slick silver special edition version of its K-5 DSLR camera and certain lenses. Announced last September, the K-5 is a 16-megapixel DSLR with rugged features, 7 frames per second shooting, a 1080p HD movie mode, and an ISO range of 80 to 12,800. This version of the camera maintains all of the same specs, but the body of the camera is silver and it comes with a slightly larger grip.
To match the silver K-5, Pentax is also releasing three compatible lenses in matching metal shades. The prime lenses are the 21mm f3.2 AL, 40mm f2.8, and 70mm f2.4 Pentax-DA lenses. The special edition K-5 will cost $1700 and be available in April 2011. The lenses do not yet have release dates or prices.
New lens for 645D medium format camera
Rounding out Monday's releases is a new lens for Pentax's $10,000 645D medium format camera. The elaborately named smc Pentax D FA 645 25mm F4 AL [IF] SDM AW lens is an ultra-wide-angle lens that has also been built to be weather-resistant and dustproof. The lens will retail for $5000 and be available in April.