Apptopus has released CollabraCam, an app that allows real-time, multi-camera video production—using only iOS devices.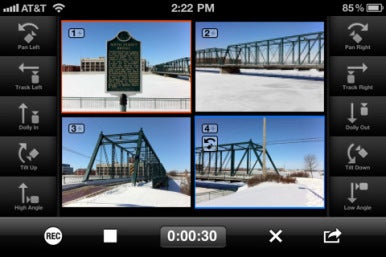 Up to four iPhone-wielding cinematographers on the same local Wi-Fi network can shoot video at the same time, while a fifth crewmember monitors all four cameras from another iPhone.
CollabraCam allows the director to not only switch between shots, but also to send silent alerts to individual iPhones—placing the camera operators on standby, requesting a tighter shot, or providing other direction. In addition to recording video on each iPhone directly, the app also syncs the video wirelessly to the director's device.
While the camera operators themselves obviously need either the iPhone 3GS, iPhone 4, or the latest generation iPod touch (those being the only current iOS devices with video camera support), the director can use a camera-less iOS device, if necessary.
CollabraCam costs $10 and requires iOS 4 or later.