The popular puzzle title Angry Birds tasked you with destroying complex fortresses so you can reach some thieving pigs. Well FDG Entertainment's Cover Orange reverses that formula in a way. Instead of going on the offensive, Cover Orange has you act as the defender of the titular oranges as they are assaulted by a villainous cloud of acid rain. Full of clever contraptions and some genuinely challenging puzzles, Cover Orange is a well-rounded title that is as refreshing as a bowl of citrus.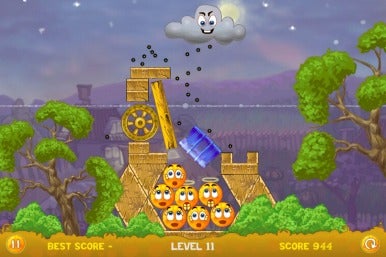 Each level begins with a group of oranges that you must protect using a certain number of boxes, barrels, wedges, and wheels at your disposable. By dropping these items down in whatever way necessary, you can build a fortress for your little citrus buddies. Once you use all the items, the cloud comes and rains its poisonous pellets onto the ground. If the oranges remain unscathed, you get to move onto the next level. If the oranges get exposed to the rain, however, they will shake with sickness, turn black, shrivel, and have their eye sockets empty out. Seriously. It actually looks a little disturbing for such a kid-friendly game.
To make things interesting, your oranges may start out sitting in the middle of a complex structure. Sometimes, your items can complete the structure to sufficiently protect your oranges, like providing the final ceiling on an unfinished fortress. Other times, the items you are given can be used to begin (or be part of) a Rube Goldberg machine that will hopefully end up blocking the rain. With bombs, levers, and planks, it is interesting to see what sort of chain-reactions the game has set up for you. Sometimes these contraptions get so complex, it takes a little bit of failing on your part just to see what you have to deal with.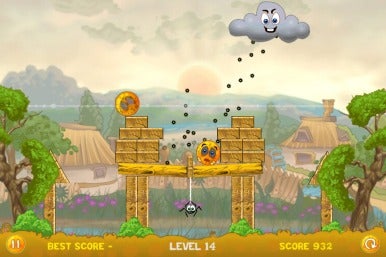 So far, the game has six levels, each with 20 stages, with more to come soon (according to the game). And you don't have to complete all stages consecutively to move onto the next one. I found this especially useful when I could not figure out the fifth stage on level one, but was allowed to move past it anyway. However, you do need to eventually complete all 20 stages to unlock the next level. Quick thinking is crucial; the faster you figure out how to save your orange pals, the more points you get.
Both the graphics and sounds of Cover Orange also help "round out" a comprehensive gaming experience. The charming visuals in this game are great—with little forest creatures idling about on screen, the animation is colorful and detailed. Even watching your orange effusively pray as the raincloud passes by, or watching it react to being saved (sometimes it pulls out a "Thank You" banner, other times it wipes the sweat off its forehead), can be entertaining to watch. There are also lush background noises of various chirping birds and the peppy Saturday-morning-cartoon-hi-jinx music amps up the playfulness of the game tenfold. All in all, this game is a great addition to your iPhone and should remain there for a long time. Cover Orange is the most fun you'll have with produce since Fruit Ninja.
[Lynn La is a frequent contributor to Macworld.]