On Monday, Samsung added two new budget point-and-shoot cameras, the PL20 and the ES80, to its digital camera line-up. The PL20 will retail for $120 and be available in March, while the ES80 will cost $100 and hit shelves in April.
PL20: The essentials plus HD video
Though compact and only $120, Samsung has packed a decent set of features into the PL20 point-and-shoot. It has a 14 megapixel CCD sensor and a 27mm wide angle lens with 5x optical zoom and digital image stabilization. The PL20 can also shoot 720p HD video at 24 frames per second, and it runs off of a rechargeable Li-ion battery.
The camera software has some nice touches too. There is Samsung's Smart Auto feature that automatically adjusts the camera settings to fit the current lighting situation and shooting mode. Large group photos of 10 or more people are easier with the PL20's face detection tool, which can make sure that all the faces are in focus before taking the photo. And there are a few in-camera editing tools for adding special effects photos, including fish-eye and miniature effects.
ES80: Back to basics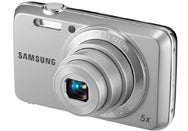 The lower-end ES80 camera differentiates from the PL20 in just a few ways. It has a slightly larger body and a slightly smaller 12 megapixel sensor. It also pars back on other features to get down to that $100 price point: there is no video capability and no in-camera art filters.
The ES80 has the same 27mm wide-angle lens, digital image stabilization, Smart Auto mode, and face detection as the PL20, However, The ES80 does offer a self-portrait feature that its counterpart does not. When PL20's photographers turn on the camera's Self Portrait mode, they can step in front of the camera and it will wait until it detects a face before taking the picture. Blink and Smile Detection features make the camera take a series of photos until it captures one without blinking or with a smile.
Both cameras will come in Silver, Black, Pink and Tomato Red. The PL20 will be out in March, while the ES80 will drop in April.