Using transitions in an iMovie project adds polish and often smoothes juxtapositions between clips—for example, a long Fade to Black transition can indicate the passage of time. iMovie '11 offers 24 built-in transitions, and what seems like nearly as many ways to add and edit them to improve your movies.
Step 1: Add a transition
When you create a new project, you can choose to automatically add a transition style of your choice, which puts a transition between every clip. However, I prefer to ignore this option, start clean, and add transitions as I go. If you change your mind, you can choose File -> Project Theme (or press Command-Shift-J) and enable the "Automatically add [name of transition]" option; or, if you applied a theme to the project, enable the "Automatically add transitions and titles" option.
To add a single transition, show the Transitions browser by clicking its button in the toolbar, or pressing Command-4. Position your mouse pointer over a transition icon to preview its effect. Then, drag an icon from the browser to the spot in your project where you want the transition to appear.
Step 2: Edit the transition duration
By default, a transition lasts half a second, but you can change that. Double-click a transition icon in your project to bring up the Inspector. In the Duration field, enter the number of seconds (as little as 0.1s, or 0:05—or five frames—if you've chosen to use timecode notation in iMovie's preferences). Press the Return key to apply the change; that lets you preview the timing before dismissing the Inspector. When you're satisfied with the change, click Done.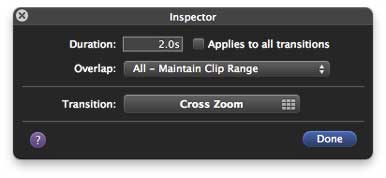 If the transition ends up shorter than you specified, check to see if its duration appears in yellow text when you position your mouse pointer over it; that indicates there isn't enough source footage in one of the clips for the transition to use. Give the clip more padding around the edit point using the Clip Trimmer or Precision Editor; or, if the source clip is just too short, consider replacing it with a longer clip.
What if you prefer longer transitions by default? Choose File -> Project Properties (Command-J) and adjust the Transition Duration slider; click the "Applies when added to project" radio button to make the change stick for all new transitions.
Step 3: Fine-tune a transition
When you want more control over how a transition appears, entering time values isn't good enough. Click the action menu (with the gear icon) that appears below the transition's icon when you hover over it and choose Precision Editor.
Drag the preceding clip (which appears above the transition) or the following clip (which appears below) to specify which sections of the clips are being used by the transition. You can also drag the edges of the transition to adjust its duration. Click Done to exit the Precision Editor.
Step 4: Change a transition style
Are you looking for something more dramatic than the Cross Dissolve transition? Choose from iMovie's styles using a couple of techniques.
Bring up the Inspector by double-clicking a transition and then click the Transition button that lists the current style. A pop-up pane appears with thumbnails of alternatives. When you move your mouse pointer across any of the icons, you're given a preview of how the transition will appear using your footage, both within the thumbnail and in the viewer. Click a style to apply it.
Another option is to drag an icon from the Transitions Browser onto the top of the transition you want to change. One advantage to this method is that you're given two options when you release the mouse button. Replace changes the selected transition style with the one you dragged. But if you've decided you'd rather stick to one style for all transitions, choose Replace All.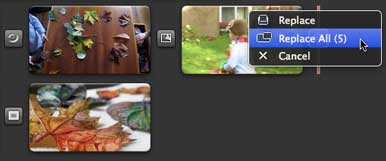 Transitions can be a powerful component of your narrative. Using them well adds depth and quality to your video.
[Jeff Carlson is the author of Photoshop Elements 9 for Mac OS X: Visual QuickStart Guide (Peachpit Press; 2010) and a senior editor of TidBits.]
Note: When you purchase something after clicking links in our articles, we may earn a small commission. Read our affiliate link policy for more details.