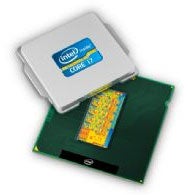 Hewlett-Packard has delayed plans to launch new laptops with Intel's latest Core processors, just a few days after HP stopped making PCs that previously paired the chips with Intel's faulty chipset.
HP originally planned to make new Pavilion DV6 and DV7 consumer laptops available in the U.S. on Feb. 27, which has now been delayed to spring. The laptops will include the latest Core i5 and i7 chips based on the Sandy Bridge microarchitecture, which started shipping in January.
HP did not respond to requests for comment on the laptop shipment delays. However, Intel last week revealed a problem in a chipset tied to the new Core processors, which the chip maker said could delay laptop and desktop launches by weeks. The chipset flaw prompted companies such as HP, Dell, Lenovo and MSI to stop selling certain desktops and laptops.
Intel said a design flaw in its 6-series chipset, which is code-named Cougar Point, could degrade the chipset over time and affect the performance and functionality of storage devices. HP stopped making PCs with the affected Intel technology and offered a refund or replacement to customers who had already bought PCs with 6-series chipsets. HP last week also canceled an event scheduled in New York City on Feb. 15 where it was planning to provide briefings on future business laptops.
Intel has corrected the flaw and new chipsets will start shipping by the end of February, with production reaching full strength in April. PC makers have shifted their computer shipment plans accordingly, and Dell last week said it would start shipping PCs with the new Sandy Bridge chipsets starting in April.
The Pavilion DV6 and DV7 laptops will include 15.6-inch and 17.3-inch screens, respectively, with prices starting at $749.99 and $999.99, respectively. The laptops will come with Intel's latest Core i5 and i7 chips, and processors from Advanced Micro Devices.
Intel has said that the new Core processors are faster and more power-efficient than their predecessors. In internal tests, the DV6 laptop provided about six hours of battery life with a six-cell battery, said Kevin Wentzel, technical marketing manager at HP's mobility global business unit. The DV7 provides a little less battery life because of a larger display, Wentzel said.
The laptops are designed to be desktop replacements and include some new entertainment features such as Beats Audio speakers. Beats Audio speakers and headsets are offered by Monster and were developed in association with artist Dr. Dre and Jimmy Iovine, chairman of Interscope-Geffen-A&M. An HP engineer worked with Interscope to develop the speakers, Wentzel said.
The DV6 and DV7 offer up to 1TB and 2TB of storage, respectively. For better graphics, the laptops will be offered with optional AMD Radeon 6000 series graphics cards. The laptops will also be offered with USB 3.0 ports and an optional Blu-ray drive.
The company also announced new entry-level Pavilion G4, G6 and G7 laptops on Tuesday. The laptops are thinner and lighter than their predecessors, with prices starting at $449. The laptops are expected to become available on March 13.