SLIDESHOW
Strange tributes to Steve Jobs
Steve Jobs affected so many people in so many ways. This slideshow takes a look at the different ways people pay tribute to Apple's co-founder.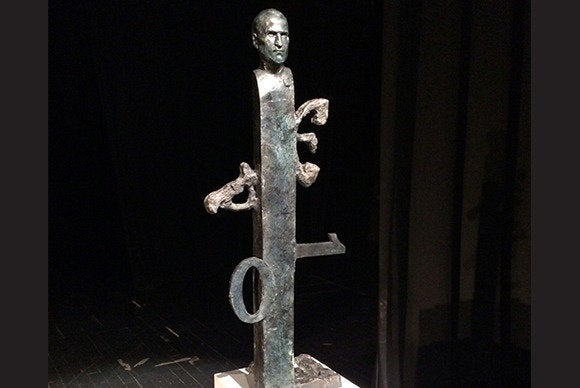 Honoring an innovator
A report by Serbian news site Netokracija said that artist Dragan Radenović recently unveiled a rather unique-looking sculpture commemorating Steve Jobs. It supposedly beat more than 10,000 other entries in an Apple-sponsored art competition. [Editor's note: The Register reports that Apple has no involvement whatsoever in such a competition or with Radenović's work.]
The statue garnered mixed reviews on the Internet—does an aesthetic visionary so committed to sleekness in design really deserve such a clunky commemoration? If this is the winner, I can only imagine how ridiculous the rejected pieces were. Maybe I just don't get it.
This is only the latest in a series of slightly odd tributes to the late Apple founder since his death in October 2011. Let's take a look back on some of the other weird ways in which Jobs has been commemorated.
This story is reprinted from Macworld U.K. Visit Macworld U.K. for the latest Mac news from across the Atlantic.
Photo: Netokracija
Steve Jobs stamps
The United States Postal Service revealed that Steve Jobs will be featured on a postage stamp in 2015. Kind of funny considering how unkind the digital age has been to the postal industry in general.
The U.S. isn't the first country to feature Jobs on a stamp. Hungary, Guinea Bissau, Mail, Mozambique (pictured) and other countries have featured Jobs on postage stamps.
Graphisoft copper sculpture
Hungarian architecture software company Graphisoft erected a bronze, life-size statue of Jobs at its Budapest headquarters in December 2011, shortly after Jobs's death. The company claimed to have a personal relationship with Jobs that stretched back to the 1980s, when the "small company with limited resources [was] working within the economic confines of what was, at the time, communist Hungary," said founder Gabor Bojar, who commissioned the statue from Ernő Tóth.
Tóth's sculpture is probably much more universally appealing than Radenović's sculpture, but I can't help but think this one looks like a guy staring in disbelief as his fingers inexplicably melt upwards.
Photo: totherno.com
M.I.C. Gadget action figure
M.I.C. Gadget was the first to create an incredibly detailed Steve Jobs Action figure in 2010, selling it for $80. The desktop-sized figure featured an oversized head, Jobs's trademark black turtleneck and blue jeans, and what appears to be an iPhone 4.
Apple's lawyers were quick to shut down the China-based company's operation, stating that the figure violated a California statute prohibiting the use of a person's likeness in a product without authorization. The figures then appeared again on eBay with a jacked-up price of almost $2500 a piece, though those sales were quickly squandered.
Legend Toys action figure
Tokyo-based Legend Toys created some insanely detailed versions of Jobs, with pores, veins, dry lips and all. A quick scroll through the company's website is guaranteed to make you feel thoroughly creeped out. The figures can be purchased through the website for $200.
The company is not worried about getting sued. "We do not have permission from anyone and we don't think it's necessary to obtain permission from anyone," said Legend Toy's Yuichi Kimura to Cnet. "Just like millions of people around the world, I was moved by Jobs' passion and creativity. He said that he loved to do things he could do best. So do I, and the best thing I can do is make a lifelike figure to remember him and I also wanted to share my passion with all his fans like he did with those I-products."
Photo: Legend Toys
LightCaseStore iPhone case
LightCaseStore created an iPhone case that featured a a collage of Jobs made up of little iPhones. The case sold on Etsy, but the best part is that the case was available not just for the iPhone, but also for the Samsung Galaxy.
Photo: LightCaseStore on Etsy
Memorial hair art
Johan Ruiz crafted this masterpiece. On one side, we have Jonathan Mak's Jobs tribute logo. On the back, there's Albert Watson's portrait of Jobs. Out of sight of the picture is Apple's Think Different slogan carved into this young man's head. Strange as it might be, it's nothing short of impressive. And less permanent than a tattoo, so that's probably a good thing.
Photo: Co-Pilot Navigation
Cheese Jobs
The most bizarre tribute comes from Ken at TheCooksDen.com. As a self-described "Mac Fanboy," Ken writes that "Steve's piercing gaze and strong personality make him a natural choice for bold food pairings." You can get the recipe, but the main gist of it is mozzarella, pepper, expert knife-wielding skills, good humored party guests, and a lot of time on your hands.
Photo: TheCooksDen
Next Up: Check out these related slideshows
Today's Best Tech Deals
Picked by Macworld's Editors