Editor's Note: The following review is adapted from Five Star Apps: The Best iPhone and iPad Apps for Work and Play by Glenn Fleishman. (2010, Pearson Education and Peachpit Press).
If you hike, bike, stroll, or even drive paths regularly, you might want to stake out where you've been, and find out some information about the route, too. By foot or bike, tracking a trail lets you figure out distances and elevations for training or for tracking improvements.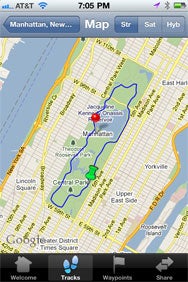 EasyTrails GPS, which requires an iOS device with a GPS receiver, can record a track as you traverse it, and provide live and archived details. Even its main screen is useful after it gets a good GPS fix (indicated by the number of green bars): the page shows your current altitude, speed, and coordinates.
Tap the Rec (record) button, and the app starts tracking points along your route. You can tap pause or stop buttons along the way, or tap the trash can to cancel and delete the current route. Information about the track is displayed as you go, including the current altitude, speed, distance, and time elapsed, as well as the average speed underway, and the current coordinates. This is useful for exploring a path—and deciding if you might be going too far!
Three icons at the bottom provide alternate views: a compass shows the current heading; charts compare time, distance, and altitude; and the Map reveals the current route as recorded.
Map view has two other useful options. Tap the flag icon and you can add a waypoint, a set of coordinates to which you attach a name and can add a photograph. This can be helpful when planning a run or trip, and you want to associate a place with a mile marker. You can also tap the big R button and pull up a previous track to follow.
When your route is complete, tap the stop button in the Dashboard view, name and describe the track (both optional), and tap Save. The Tracks tab now shows your latest outing. You can review that route on a map, and examine charts.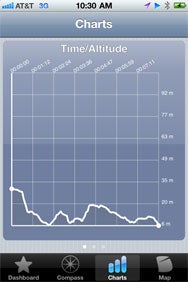 As a long-time cyclist, I appreciate the altitude charts that are generated. I'm always wondering about the elevation of a given ride, wanting to see both how hard it was and compare it to other rides. Often, these elevation profiles are found only in guide books. EasyTrails shows both the altitude over time and over distance. Runners will like the time over distance chart that lets them track their average speed at mile marks, as well as elevation charts for seeing hill performance.
Tracks can be exported to EveryTrail.com, e-mailed (in one of several common formats, including GPS, KML/KMZ, and comma-separated text), or accessed over a local Wi-Fi network using a Web browser. The last choice I haven't seen in other apps: the app runs its own Web server.
The app from developer Zirak places configuration options in the iOS Settings app; that's where you choose units (feet/inches or meters), sound cues (when a GPS signal is lost or you're near a set waypoint), and security for Wi-Fi sharing.
[Glenn Fleishman is a frequent contributor to Macworld.]