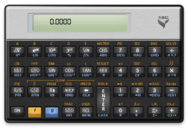 In this day and age of touchscreen technology and extreme electronic portability, it's a wonder that stores even sell solar- or battery-powered number crunchers. If you're one of the .000001 percent of modern society who is still calculating your hyperbolic and inverse hyperbolic trig functions with a plastic hunk of mathematics' past, Vicinno Soft can help you join the rest of the 21st century with its 15C Scientific Calculator app, now available in the Mac and iPad App Stores.
The app actually mimics the popular scientific calculator, offering the same layout and functions as its real-world counterpart. But it also sports access to a digital user manual and a sound mute button that turns off the familiar "clickety-click-click" of the calculator keys.
The calculator is available for download on the iPad and the Mac App Store for $30. The iPad app requires iOS 3.2 or later while the Mac version needs Mac OS X 10.6.6 or higher.