Touchscreens still aren't the weapon of choice for some gamers, which is why the folks at iControlPad have been hard at work on a physical controller handheld devices. On Monday, the company announced that it's finally ready to start taking preorders.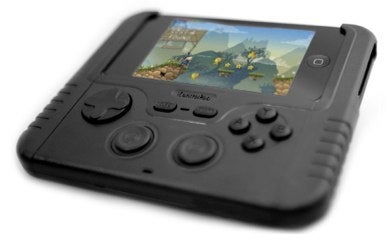 The iControlPad borrows from the game control layouts of the Nintendo DS and PlayStation Portable, offering a directional pad, two analog nubs, six buttons on the front and two more on the back. A unique clamp system can fit a number of popular smartphones and media players, including all generations of the iPhone, the iPod touch, BlackBerry Touch, and various Android phones.
While the original iControlPad prototype (announced way back in 2008) used the iPhone's Dock connector, the company has since switched to Bluetooth. This allows for both flexibility in the controller's design and compatibility with a broader selection of devices and platforms.
When it comes to iOS devices, though, the company warns that the iControlPad might not work with all existing games in their current state, since many aren't designed to allow input from external Bluetooth devices. The company hints that more jailbroken apps will support the iControlPad at launch, but so far, it has not bothered to create a list of apps that are known to be compatible.
Of course, the iControlPad isn't the first attempt at bringing physical game controls to Apple's touchscreen devices. The Fling Game Controller for iPad, which earned a Best of Show award at Macworld 2011, uses low-tech suction cups, while the Joystick-It from ThinkGeek brings an old school analog joystick to your 21st century tablet.
That said, the iControlPad looks to be one of the most platform-friendly game controllers available, especially since it supports both the iPhone and iPod touch and offers a button layout that is more typical of competing portable gaming platforms. However, the real question is whether iOS game makers will take notice and decide to support the iControlPad.
If you've been itching to add some physical controls to your touchscreen games, the iControlPad and a set of brackets will set you back $75, while the pad itself is $60. The company produced 3000 units for its first batch, and they begin shipping February 16.