Dragon Age: Origins was one of the top role-playing games to grace gaming in 2010. Unfortunately, Mac gamers had to wait weeks longer to get their hands on the exciting tale of swords, magic, betrayal and Darkspawn. But on March 8, when Dragon Age 2 launches in North America, Mac users will be able to get their hands on the hotly-anticipated sequel the same day.
Day 1 love for Mac fans
At an exclusive event on Thursday last week, select members of the press were given a first look at the new demo for the game. I talked to Daniel Lazin, an editor at Bioware, and he explained how dedicated the developer is to the Mac community.
"Dragon Age 2 is on the same disc as the PC [version]. You buy one version, you get both." Lazin explained that this was a major effort by the Bioware community, as he personally was sick of having to buy games for multiple platforms. Developers like Blizzard have been launching their games simultaneously on both Mac and Windows using hybrid discs for years, but so far Blizzard been the exception, not the rule. It's extremely encouraging that Bioware is beginning to follow suit. For those who don't want to buy a physical copy and plan instead on downloading the game, there are Mac specific download sites that one can download the game from. Curiously, Lazin admits, "There is no Mac Steam version…yet."
Why the love for the Mac this time around? "I have a Mac at home… There's a lot of us [Mac users] at Bioware these days." He and others "wanted to have Day One love for Mac fans." He says its effectively "the same game" to look forward to. The specs for the game are also fairly reasonable, though slightly more demanding than last year's game. Mac users will need a machine with an Intel Core 2 Duo processor and at least a Nvidia 9400 graphics card. Lazin demonstrated the game on a new 13-inch MacBook Air, but also claims that a 2008 or 2009 Mac mini or MacBook would be sufficient. On the MacBook Air, there were some frame rate issues, but hey, the game was running. Still, he boasts, "Dragon Age II runs better on the Mac than Dragon Age: Origins."
Fight like a Spartan
So why should Mac gamers be so excited about this game? Developer Bioware is one of the hottest commodities in gaming right now. Seemingly everything they touch has turned into role-playing gold. Their epically successful sci-fi series Mass Effect still tops many Mac gamers' most wanted lists, and Dragon Age: Origins achieved many "best of" awards and had made the company millions.
At the press event, Bioware unveiled a new trailer and the first demo of Dragon Age II. Lead Designer Mike Laidlaw hammered home the idea that the game is going to keep what made the series successful while also expanding the franchise. The distinctive art, tactics, character customization, cross-class-combos… in short, all of the "best parts of Origin" will be kept. And as revealed in the demo, familiar faces from the first game will make cameo appearances in the game…but we're not saying who quite yet.
But Dragon Age II isn't a remake or an expansion pack. Laidlaw also emphasized that the game will feature a revamped combat system and new upgrade system. In short, you'll be able to, "fight like a Spartan," he boasts. The battles will be faster paced and feature "closing" moves that will enable players to close large distances and take the fight to their enemy.
Lazin later explained that the archery component of gameplay has been totally redone. "Archery wasn't fun in Dragon Age: Origins," he admits. But in Dragon Age II, players will actually want to specialize in archery and can take out enemies with arrows before they can even get within sword's length.
The redone upgrade system is also trying to address a perceived weakness in the first game. Laidlaw discussed the idea of an upgrade "tree" that will effectively allow players to choose to be a specialist of a generalist in their abilities. Want to hone one or two abilities? Well, now you can.
Test drive
How does this all play? In the initial opening of the Dragon Age II demo, quite well. The battle begins in a badland-like setting where you're fighting wave after wave of Hurlocks. The animations are much more complex this time around. Whether you're casting a wintry spell to freeze your enemies or slicing and dicing as a rogue, the game just feels quicker and more intense.
Over the course of the demo, you're introduced to more characters (including your family) and relearn the basics of party combat. Setting up tactics and switching between characters remains as easy as ever, though getting used to the new menus and quick keys will take some adjustment. The actual scenery was some of the least interesting I've seen from Bioware, but the characters and their movements were much more believable. During conversation, the characters convey lifelike emotions, and when fighting they seem to react more realistically to damage. As an example, when an Ogre charged my party, he did his usual "bowling ball" charge through my group. How they were knocked back and recovered was much more realistic than what I'd been accustomed to seeing.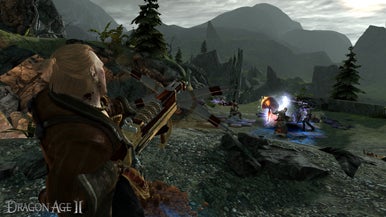 Not just another blight
The game is about a legend named Hawke. He or she is a survivor of the Blight and the Champion of Kirkwall. The story centers around how he or she became so revered.
The demo opens up in a craggy, blackened tundra. You start off as a highly powered character, hacking and slashing (or burning and shooting) through wave after wave of Hurlocks. You and your sister, Bethany, seem to be about overrun when a dragon suddenly appears.
It's here that Bioware really show their creativity. The narration kicks in and someone says that no, that's not how it happened. A scene ensues wherein its established a woman named Cassandra, a Chantry Seeker, is interrogating Varric, a dwarf and friend of Hawke. What you just played through either didn't happen or isn't how the story starts. Varric then begins again and this time, you play as a much more low level character.
Now you and your family are seen fleeing the oncoming armies of Darkspawn. You meet your family—the mage Bethany, warrior Carver, and even your panicked mother. The majority of the demo takes place in the blackened tundra as you and your family try to make it to safety. You encounter new allies and old friends and relearn the basics of combat along the way.
Interestingly, the story in Dragon Age II focuses on events that happen parallel to the events of the first game. But instead of focusing on the greater war with the Archdemon, it appears the story will span ten years throughout the game. Laidlaw made clear that Bioware didn't want to just unleash another Bligh and another Archdemon to face. Hawke's journey will be unique and hopefully something we haven't seen before.
The demo is due out on February 22 and the game will be released on the Mac on March 8.