The iPhone makes it easy to shoot video on the fly, but sharing these videos can be a bit tricky. Thwapr's new app and video sharing service, Thwapr, helps overcome the iPhone's video sharing limitations, letting you easily capture and share videos and photos with many types of mobile devices.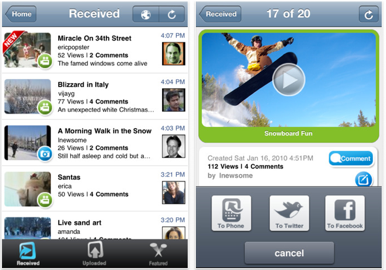 With the standard Photos app, your sharing options are limited to e-mail, MMS, and YouTube, all of which have their own shortcomings. E-mail and MMS are limited to around one minute of video length, and uploading a video to YouTube is a hassle if you just want to share it with one friend.
Thwapr works like a YouTube for the mobile world, letting you upload up to 30 minutes of video, which can be shared with friends via an SMS link. Friends with the Thwapr app can view your video within the app and comment on it with text or with their own videos or photos.
You can capture video or photos directly from within the app, or you can import media from the Camera Roll. Photos and videos taken within the app are automatically geotagged and their locations can be viewed on a map in the app. The app also supports background uploads if you're running iOS 4.0 or later, and can keep you updated with user sharing, uploading, and commenting activity via push alerts.
A free download, Thwapr runs on iOS 3 or later.