Retro games distributor DotEmu has brought the classic SNES game, Earth Defense Force, to iOS devices everywhere. Like many arcade-style games, this fast-paced horizontal shooter is easy to learn, yet hard to master, and features high-definition retro graphics with an awesome 16-bit soundtrack.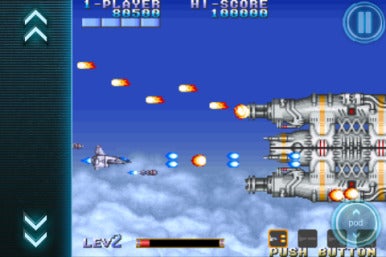 Though shoot-'em-ups aren't really known for their creative plotlines, here's the story for you anyway: the alien empire Azyma is trying to destroy Earth (that's you!) with a computerized space satellite called the Orbital Buster (think Death Star). Earth's only hope is the aptly-named Earth Defense Force (E.D.F.) and its XA-1 fighter ships — again, that's you! There are two modes in E.D.F. — free play, which is basically an endless training mode; and arcade, in which you're allotted two credits to get as far as you can (if you unlock a stage, you restart from that stage if you die). You're able to unlock different weapons and levels of firepower by playing (and beating) the arcade mode, resulting in a total of four weapons and five firepower levels.
Playing E.D.F. is simple, and you can choose from an iPhone-adapted mode or a classic arcade-style mode. In the iPhone-adapted mode ("fullscreen"), you're able to drag your finger across the screen to move your fighter up, down, left, and right (there is a bar on the far left side with up/down arrows, but this is just a guide — you can move your finger anywhere on the screen). In the classic arcade mode you have a virtual joystick and a firing button (if you so choose). The joystick is harder to use than the tap-and-drag method, but it actually works quite well for being virtual. If you choose one mode and find it too difficult, you can always pause the game and choose the other mode mid-level. Though E.D.F. features retro graphics, this doesn't mean they're choppy and pixelated — the game is optimized for the iPhone 4's retina screen, and it looks smooth and high-definition on the screen while retaining the retro feel. And no horizontal shooter is complete without an accompanying 16-bit soundtrack, and E.D.F.'s definitely lends a certain frenzied excitement to the experience.
With its improved graphics and iPhone-adapted playing mode, Earth Defense Force's iOS remake is even better than the classic game it's based on. If you ever enjoyed the original — or if you like horizontal shooters at all — I honestly have nothing bad to say about this game. It does lose half a star for replayability, because horizontal shooters tend to get a bit redundant.
[Sarah Jacobsson is a frequent contributor to Macworld.]