Lots of services have sprung up allowing you to rate business and service providers. Tello thinks the people who work at those businesses deserve ratings of their own.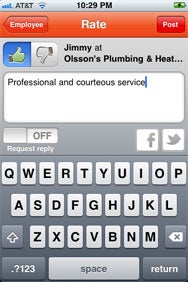 To that end, the company is taking its customer-rating service and self-titled iPhone app out of beta. Tello officially arrived on the App Store Wednesday, giving mobile users the chance to sound off on the waiter at their favorite restaurant, the barista at their local coffee place, or the guy who handles their dry cleaning.
"What we're building essentially is a mobile customer service rating platform," Tello CEO Joe Beninato told Macworld. "[With Tello], customers should be able to rate any business in the United States."
That might sound awfully similar to Yelp, a Web service for rating local businesses with an iPhone app of its own. It's a comparison Beninato hears a lot, and while he professes to admire Yelp, he sees Tello as offering something different.
"Yelp is more about a certain class of business," said Beninato, referring to restaurants, coffee shops, and bars. "But you wouldn't rate a flight attendant on Yelp. We're specifically focused on customer service."
Before service industry professionals cower at the thought of a steady stream of Tello-fueled flames being fired their way in the near future, Beninato adds that Tello exists to thank employees for great service in addition to providing constructive feedback. In fact, during Tello's beta period over the last few months, 85 percent of the ratings left by users were positive, according to Beninato.
"It's great to see consumers thanking customer service providers," he added.
Launch the Tello app, and you have the option of rating nearby businesses, which are found using your iPhone's geolocation services. Tello has struck a deal to use a database of 14 million businesses in its app, so that chances are good that the service you're looking to rate can be accessed with just a few taps. That may be the case for many users, but in my tests of Tello, only one business showed up when I tapped the Rate Nearby button in the 70,000-resident Bay Area suburb where I live. Still, adding a business with the tap of a plus button is simple enough.
Once you find or enter a business, you enter in the name of the employee you're rating. (If the employee has been rated previously, you can simply tap on their name.) You then tap on a thumbs up or thumbs down icon with the option of entering a brief comment about your experience. "Tello is more of a 140-character style," said Beninato—another distinction from Yelp, which leans toward longer-form reviews. You can share your Tello comments via Facebook and Twitter as well.
"We're trying to get you in and out in 30 seconds or less," Beninato said.
One thing you won't find in the Tello app or on its Website is ads, as the company fears that it would pose a conflict of interest for a customer-rating service. So how does Tello plan to make money off its free app and service? Eventually, Tello hopes to be able to provide businesses with data on customer satisfaction for a fee; in the future, it also plans to offer businesses the ability to communicate with customers directly. (Right now, Tello users have the option of requesting that the company contact them when they leave a comment about an employee.)
For now, Tello is a free download from the App Store that will run on any iOS device with iOS 3.0 or later installed. (Note that Tello hasn't been optimized to run on the iPad.) To leave comments about employees, users must register with Tello's service, which they can do directly from the app.
An Android version of Tello's app is in the works. In the meantime, the service offers a mobile version of its Website for other smartphone users.