Audio accessory maker iHome has unveiled its first two portable iPad speaker docks, the iD9 and the iDM12.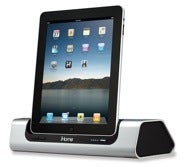 The eloquently-named iD9 is a rechargeable sound bar that offers 10 watts of power. It works not just with your iPad, but also your iPhone and iPod, too. The device offers iHome's SRS TruBass and Reson8 technologies, which aim to help make your audio sound even better. As an added bonus, even iPads in skins or slim cases should dock with the iD9 successfully. The iD9 costs $100 and is available now.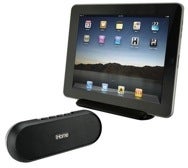 iHome's other new iPad-friendly dock— the iDM12—was also apparently named by a random number and letter generator. The iDM12 is a portable, rechargeable, Bluetooth-enabled speaker that iHome says is "designed for the iPad," though it should work with any Bluetooth-compatible device. The iDM12 sports a magnetic protective plastic shell that transforms into an iPad stand with fold-out feet. The iDM12 costs $70 and is also available now.