Reader Soren Peterson is seeking a more personalized presentation. He writes:
I'm scheduled to do a presentation with people thousands of miles away. They're Mac users so I was hoping that I could use iChat. I'd like to show them a Keynote presentation but I'd also like them to be able to see me via my MacBook's iSight camera. Is there a way to do that?
There is. Just follow these steps:
1. Launch iChat, locate the person you'd like to chat with in the Buddy list, and click on the Video icon next to their name.
2. After they've accepted your video chat invitation and you can see each other choose File -> Share a File With iChat Theater.
3. In the Share With iChat Theater window that appears, navigate to your Keynote presentation and click the Share button.
Your iChat window will now display the first slide of your Keynote presentation. In the bottom left corner you'll see the image from your buddy's camera. On their end, they'll see a similar arrangement but your camera's image will appear in their window.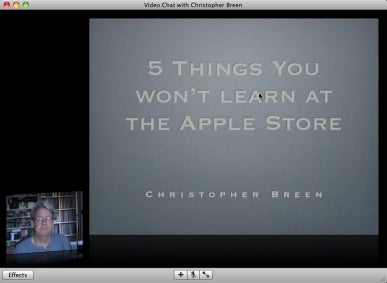 4. Another window should also appear on your Mac—one called Playing Slideshow: nameofpresentation. This window belongs to Keynote. In it you'll find navigation controls for your presentation—Previous, Next, Full Screen, and Close. Use these controls as you would with any Keynote presentation. (You can also use the Space Bar and Arrow keys to navigate your presentation.)
When you're finished with your presentation just click the Close button and your iChat window will return to its usual picture-in-picture view.