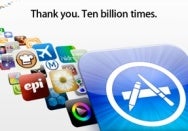 Massachusetts Representative Edward Markey has penned a letter to the Federal Trade Commission, asking them to look into the risks of additional charges for in-app upgrades and purchases in iPhone and iPad apps geared towards children, according to the Washington Post .
Markey said in a statement that he was concerned about the rising popularity and purchasing power of apps could deceptively suck money from parents' pockets.
"Companies shouldn't be able to use smurfs and snowflakes and zoos as online ATMs, pulling money from the pockets of unsuspecting parents," he wrote.
Markey's request stems from an earlier report in the Post on games and apps aimed at kids that have amassed large bills for in-game purchases. For instance, a girl from Rockville, Maryland managed to rack up a $1400 bill for improvements and upgrades she made in her Smurfs' Village app.
But it's also important to note that this isn't just kids tapping and buying willy-nilly. Parents have some degree of control over how much their child can do on an iPhone, iPod touch or iPad. For example, in most cases purchasing apps or additional content requires entering the password for an iTunes Store account. (The one exception is that the password isn't required for 15 minutes after it's been entered for a purchase.) Parents can also disable App Store access and/or in-app purchases altogether via the parental controls under Settings -> General -> Restrictions.
Of course, despite whatever laws and restrictions might eventually comes from this, parents ultimately determine the extent to which kids actually get to use these devices. If you're worried about having to drop a mortgage payment just to pay off junior's Farmville bill, maybe it's time to dial back his access.