In recent months, CardStar has been working at adding discounts and coupons to its loyalty and reward card app for the iPhone and iPod touch. The company landed a big partner Wednesday, adding integration with Groupon's location-based daily deals to the CardStar iPhone app.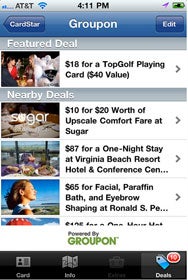 The free CardStar app lets you store the loyalty, reward, and club membership cards you get for grocery stores, retail chains, and other businesses on your mobile device. Instead of having to carry around a mess of plastic cards, you hand over your iPhone to a clerk for scanning so that you can reap the assorted rewards that come from your cards. Last year, CardStar started offering coupons with the app targeted to the loyalty cards that users had entered.
That coupon capability expands with the 3.3 update to CardStar released on Wednesday. The new version adds a Groupon card feature that CardStar says will put that service's daily deals at the fingertips of the iPhone app's 1.3 million users.
Groupon, which caused a bit of a stir with its Super Bowl ad campaign this week, is a social buying service that features daily deals based around group discounts. CardStar's Groupon integration gives the mobile app access to daily deals in more than 160 cities.
Groupon appears as its own card within CardStar, offering a featured deal—say discounts on flower orders—as well as nearby offers based on your location. The deal page itself includes a countdown clock to let you know when the deal expires and is "fashioned very much after the Groupon widget" for the Web, according to CardStar chief technology officer Danny Espinoza.
Adding Groupon deals into CardStar is "an easy way for us to get that hyper-local connection with our customers," Espinoza added.
CardStar 3.3 is compatible with the iPhone, iPod touch, and iPad (though not optimized for that later device). It runs on iOS 3.0 or later.