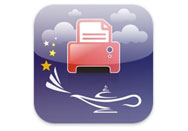 iOS device owners who also have a Wi-Fi-enabled Epson printer at their disposal have been able to turn to PrintJinni for Epson for their wireless printing needs. Now, developer Thinxtream Technologies is making it easier for PrintJinni users to print attachments directly from the Mail app on their iPhone, iPod touch, or iPad by adding support for POP3 accounts.
PrintJinni debuted last fall, giving users the ability to print Microsoft Word, Excel, and PowerPoint files as well as PDFs and JPEGs from an e-mail account to any Epson all-in-one device with Wi-Fi capabilities. At the time, the app supported Gmail, Microsoft Exchange, MobileMe, AOL, and other IMAP-based e-mail accounts.
Wednesday's 4.0 update to PrintJinni allows the app to work directly with POP3 and IMAP accounts in Apple's Mail app for previewing and printing e-mail attachments. What's more, the new version adds the ability to print Web pages by Web address—just enter a URL to preview and print.
PrintJinni 4.0 also includes an improved help section for iPad users and improved page range for printing.
The free app includes a one-year subscription to PrintJinni Cloud Services, which lets users print Word, Excel, and PowerPoint documents from their iOS device.