Editor's Note: The following review is adapted from Five Star Apps: The Best iPhone and iPad Apps for Work and Play by Glenn Fleishman. (2010, Pearson Education and Peachpit Press).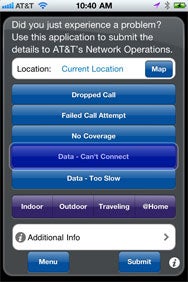 AT&T has received plenty of criticism as the exclusive iPhone seller and network in the U.S.—at least until Verizon's CDMA version of the iPhone 4 arrives this week. Mark the Spot is supposed to help deflect some of that criticism and improve the network.
If a call fails or you have another network problem, launch the app, make sure the map shows where you are, and choose the problem: Failed Call Attempt, No Coverage, and so forth. If you don't have a live data connection, the report is sent later. While appealing to iPhone users for obvious reasons, the app also has been optimized for the iPad, so that tablet users who've ponied up for 3G coverage with AT&T can also report any issues.
The app also includes helpful advice on improving coverage and battery life that are within your control.
[Glenn Fleishman is a frequent contributor to Macworld.]