Hewlett-Packard rolled out its debut entrant into the red-hot tablet market, the HP Touchpad, as well as two new smartphones—all running the latest version of the webOS acquired last year when it bought Palm.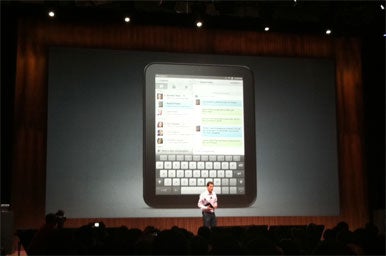 HP may be behind some competitors in introducing a tablet, but Todd Bradley, executive vice president of HP's Personal Systems Group, implied that the market is in its infancy as he kicked off the Wednesday event. "The market for connected devices is, conservatively, $160 billion. And we're in the early stages of a growing market," he said.
Read Macworld's live coverage of the HP webOS event .
The HP Touchpad will be the first in a family of tablet devices, HP said. It has a high-resolution 1024×768 9.7 inch-display, weighs 1.6 pounds and is 13mm thick. It has a 1.3 megapixel webcam, and allows video calling. It comes with 16GB or 32GB storage and uses the dual-core 1.2GHz Qualcomm Snapdragon processor. The Wi-Fi version will be available this summer in the U.S. and select markets worldwide, with 3G and 4G versions coming later, HP said. A compact wireless keyboard is available for the Touchpad.
The Touchpad interface groups applications logically as "card stacks"; when a user is finished with using an app she can simply flick it off the screen rather than shutting it down.
Touching a compatible WebOS phone to the tablet can automatically fire up a browser on the phone and display the same Web page that's displayed on the tablet. If a user finds directions to a restaurant on their tablet, for example, and wants to take them out in the car, she can tap the devices together and the page of directions appears on the phone.
HP's Synergy is used to synchronize WebOS devices, so WebOS phones and the tablet can share address books, e-mail and the like. Also included is TouchPad at Work software—QuickOffice, Google Docs, and VPN. Flash is supported, unlike on the Apple iPad.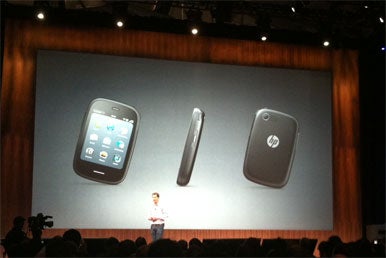 The smartphones unveiled at the event—held at the Herbst Pavilion in the Fort Mason Center beside the San Francisco Bay—were the tiny HP Veer and the Pre3.
The Veer, about the size of a credit card, features a slide-out QWERTY keyboard and 2.6" 320×400 touchscreen display, and a touch area for navigation. It supports Wi-Fi, Bluetooth, Flash and GPS, and includes a USB port and audio jack, as well as a 5 megapixel camera. The phone has 8G bytes of storage and the same amount of memory as the Pre2, and can be used as a Wi-Fi router for five devices. It will be available in the early spring.
The Pre3 has a 3.6-inch 480×800 display, and 5 megapixel camera that shoots HD video with stabilization, as well as a forward-facing camera for video calling. It runs on HSPDA+ or EVDO and uses a Qualcomm chip running at 1.4GHz. It will be available in the summer. Both phones are compatible with the Touchstone charging dock.
Since buying Palm, Bradley said, HP has deployed hundreds of additional engineers—while keeping intact the leadership of Jon Rubinstein, who joined the HP team from Palm with webOS.
At Wednesday's event, Rubinstein called the product of that work, webOS 2.1, "the most important one we've done so far. It takes the original features that set webOS apart, like true multitasking, synergy … and takes them further." The software has 50 new features like VPN, voice mode and others, and will be available on the Pre2 from Verizon Thursday, he added.
HP acquired webOS last April when it bought Palm for $1.2 billion in a surprise move. HP's own handset business had not been doing particularly well and it saw Palm as a way to give itself a leg up—even though Palm was not a market leader either.
It soon became clear HP was looking beyond smartphones, however. It said it would use webOS for its Web-connected printers, and as the iPad took off it saw opportunities there as well.
Wednesday's event is being closely watched to see what kind of hardware HP rolls out to get the most out of webOS.
HP is entering a crowded field when it comes to tablets. Along with the mighty Apple iPad it will compete with devices based on Google's Android, the latest version of which, Honeycomb, will debut later this month in the Motorola Xoom tablet. That 10.1-inch device will retail for $800, according to a leaked BestBuy advertisement.
Research is Motion is also in the game with its PlayBook tablet, which runs its own BlackBerry software. There are also tablets based on Windows 7, though Microsoft has struggled to make an impression in the tablet market.