At a Glance
Expert's Rating
Pros
Attractive
Heavy and solid construction means it stays put
Works with many cases
Our Verdict
There are many iPod/iPhone docks on the market for holding your device while it charges, syncs, and plays. Apple itself sells its $29 iPhone 4 Dock (for the iPhone 4 only) and its $59 Universal Dock (for any iPhone and most recent dock-connector iPods), and scores of third-party companies offer similar products.
ZDocks' $49 BaseDock stands out from that crowd due to its sleek design and hefty frame. The BaseDock is a block of solid, silver-finish zinc alloy that weighs 500 grams—1.1 pounds to those of us here in the U.S.—and has four anti-slip rubber feet to keep it firmly in place on your desk.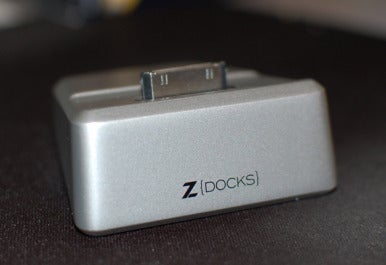 The BaseDock includes ZDocks' 3-foot ChargeWire USB-to-dock-connector cable ($12 if purchased separately) for connecting the BaseDock to your computer (for syncing and charging) or to a USB power adapter (for just charging). The cable threads through the bottom of the BaseDock, with its dock-connector end emerging from the top of dock to form the traditional "dock cradle."
Unlike with Apple's models, the BaseDock's dock connector isn't recessed into the base. That makes it much easier to use the BaseDock with an iPod or iPhone with a case on. In fact, using a metal screw bar on the back of the BaseDock, you can determine how far the dock connector sticks out, letting you easily tweak the position to better fit with your particular device and case. I tested this feature with an iFrogz iPhone 4 Luxe Original case, and my iPhone docked securely.
If you don't need to charge or sync your iPhone or iPad, ZDocks includes a "dummy" dock-connector insert that replaces the cable, turning the BaseDock into a simple, sturdy desk stand for propping up your player at a 15-degree angle for screen viewing or phone calls.
Macworld's buying advice
At $49 (or $85 for two), the BaseDock is a somewhat pricey add-on for your iPod or iPhone. But keep in mind that unless you have the iPhone 4, a compatible Apple-branded dock will set you back $59 (for the Universal Dock), and then another $9 for a set of inserts if your iPhone or iPad isn't one of the few for which Apple includes adapters. (To be fair, the Apple Universal Dock also includes the $19 Apple Remote and a USB power adapter, so you're getting more than just the dock). If you need a docking station for your iPod or iPhone, the BaseDock gets the job done, and looks nice doing it.