Skyfire is a Web browser that seems to be built primarily as a workaround to Apple's policy of not supporting the Flash video format on the iOS platform. Whether it's the iPhone-friendly Skyfire Web Browser or Skyfire Web Browser for iPad, the major selling point of the Skyfire Labs offering is that the browser can recognize when you have surfed to a page that includes a Flash video. And, if you ask it to, Skyfire Web Broswer will play the video for you after about a 20-second delay.
There's no real magic going on here; Skyfire accomplishes the feat by fetching the video, transforming it on its own servers to an iPhone- or iPad-friendly format, and then streaming that version to you.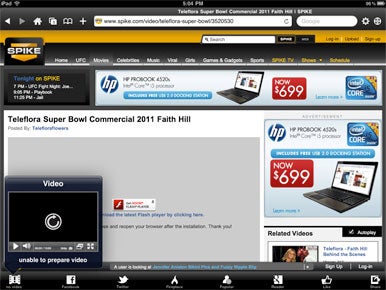 As the developer readily admits on its Website, the process is far from perfect. Some videos are not recognized and therefore do not play back properly (or at all), and other popular video formats—such as Windows Media, Silverlight and QuickTime—are not supported. Skyfire Labs says serving up fare that originates in these formats is "in planning." Skyfire also does not support Flash games or applications, and the developer makes clear that it has no intention of doing so.
Considering that many YouTube videos are no longer in Flash format, and that the popular movie and TV show streaming sites Netflix and Hulu have dedicated apps that do a fine job of serving up their offerings, Skyfire is clearly a niche offering. It probably wouldn't serve even the most ardent Flash video viewers well as a primary browser, as it doesn't enable you to import bookmarks in any way, and doesn't offer increasingly standard iOS browser features such as tabbed browsing. You can create bookmarks for Skyfire alone, and the developers give users a head start by providing a list of some major Flash video sites on its browser home page.
But if you prefer to do all of your browsing in one app, and have dozens or hundreds of bookmarks already organized elsewhere, you'll be quickly frustrated by Skyfire. This is a major shortcoming for a popular (and relatively pricey) browser that's already in its second version.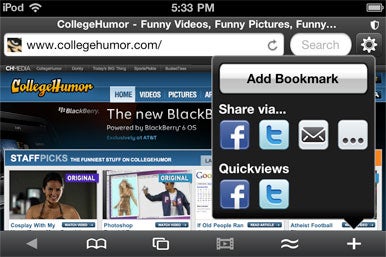 In the video conversion department, Skyfire works pretty much as advertised—sometimes. Many Flash videos are converted in about 20 seconds or so, although a fair number fail to convert at all, or sputter while playing—sometimes even on the sites, such as Spike.com, that are recommended by Skyfire. Several times, the iPhone version of the browser hung or crashed during testing, offering up either a blank screen or quitting entirely.
On a more positive note, Skyfire has some nice built-in social networking features that enable you to see, with a single tap, what's happening among your Facebook friends or in your Twitterverse; you can also view your Google Reader feed. You can also, with a single tap, post a link to Facebook or Twitter, save a bookmark to Delicious or Pinboard, post material to Tumblr, or save an item in Read It Later or Instapaper.