Editor's Note: The following review is adapted from Five Star Apps: The Best iPhone and iPad Apps for Work and Play by Glenn Fleishman. (2010, Pearson Education and Peachpit Press).
My three year old, Rex, sat next to me, transfixed. He'd heard The Cat in the Hat before, but never quite in the format Oceanhouse Media uses in its iPhone and iPad version of the Dr. Seuss classic. On the iPad, The Cat in the Hat was reading to him, zooming in and out on the pictures slowly as the story unfolded.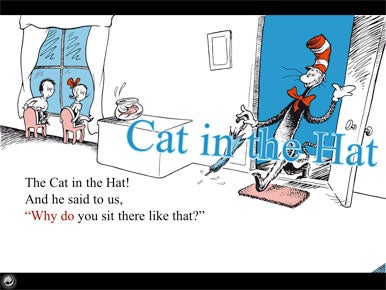 He could tap any object on screen, and its name would appear in overlaid type while the word or words were spoken, often in an appropriate character voice. A little swipe, and we advanced to the next page. This could be used bizarrely: tap an object repeatedly, and the word is reproduced for each tap, zooming out, and a sort of turntable-scratch voice overlap occurs. ("Cat-c-c-c-cat-cat-c-c-c-cat!") Not every object has the most sensible word, and you can't tap the text to have it re-read on a page.
The app can be used by more energetic parents more like a book, too, in which pictures and words appear, and you or your young reader gives voice to them. Tap the text in this mode, and it's spoken. Each word turns red as it is said aloud.
I commend the less-is-more approach used by Oceanhouse, similar to some of the best "videos" of books where images from the story are slowly enlarged and then remain static, rather than being full of extraneous motion.
The book's graphics were scanned at extremely high resolution, revealing the great art of Ted Geisel, as well as his terrific text.
[Glenn Fleishman is a frequent contributor to Macworld.]