The day is finally upon us, when U.S. iPhone owners get a choice in which carrier to put up with. The Verizon iPhone 4 launched publicly Thursday morning to mixed lines across the country.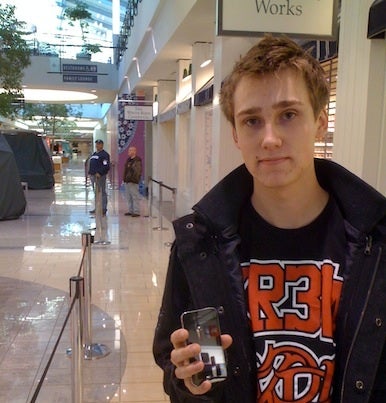 Despite the harsh weather and the fact that this is a relaunch of an eight-month-old phone, customers lined up outside of some stores to lay claim to their reservations or just get lucky with a walk-up purchase. In addition to Apple and Verizon stores, both Best Buy and Walmart are selling the CDMA iPhone 4.
Most stores, however, didn't seem to have many, if any, customers waiting before their local 7 a.m. opening time. The Apple Store at the Stonebriar Mall in Frisco, Texas expected a long line to snake around the bottom floor of their two story shopping center. But Apple employees who braved the record-setting early morning cold were greeted by just one person, Kanyon Farley, 18, of Frisco. "As soon as it opened, everyone started cheering me," he said. "I felt like a king."
Farley said he expected a line and was actually looking forward to the experience of waiting to be the first to get the new Verizon iPhone. "I worked with people who waited a long time for the first phone when it came out for AT&T," he said. "Even though it sucks to wait, it was still really fun meeting the people you were waiting with. I wasn't expecting a line, but I didn't have anywhere else to be. School's canceled because of all the ice." Business Insider also has a slideshow of lines across the country. A couple seem to have respectable trails, though most, at best, had just a handful of customers.
As demand is expected to be pretty high for the Verizon iPhone's launch, perhaps most customers took advantage of the preorder and opted for delivery (or perhaps they're just waiting for more sunlight). Preorders first opened to Verizon customers a week ago, at 3 a.m. Eastern on February 3. They quickly broke all of Verizon's first-day sales records just two hours later, before Apple and Verizon had to stop accepting them later that same day. Apple and Verizon reopened preorders on Wednesday, this time to the public, though the earliest shipping date for online orders shifted to February 18, over a week from Thursday's public launch.
Updated at 7:59 a.m. PT with an account of a Texas Apple Store
iPhone 4 16GB Black (CDMA, Verizon)
Price When Reviewed:
$499
iPhone 4 32GB Black (CDMA, Verizon)
Price When Reviewed:
$549