AT&T Interactive has overhauled its mobile Yellow Pages app for the iPhone and iPod touch, adding new features and enhancements aimed at helping users more easily find nearby businesses and deals. The AT&T subsidiary formally announced YP—Yellow Pages for iPhone 3.0 on Thursday, though the update to the business directory app arrived in the App Store earlier this week.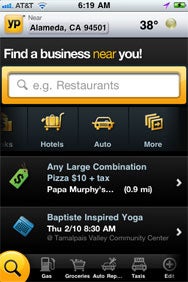 Leading the changes is a new Deals section that alerts users to nearby discounts and offers. The previous version of YP featured deals among its listings, but you had to search to find them. Now, says AT&T Interactive vice president of mobile products, deals are "concentrated in one area of the app."
The Deals section features a horizontally scrolling list of categories at the top of the page that lets you find offers for Dining, Entertainment, Shopping, and eight other areas. A list of deals includes the distance the business is from your current location; you tap the deal to get more information, including a phone number and address for the business plus a description of the deal. It's on this information screen where you can swipe to redeem the deal—just show the screen later to a cashier to claim your discount. A star icon next to the redemption slider lets you save that deal in your favorites section.
The favorites section is now called My Stuff, and it's accessible through the app. Not only does My Stuff store deals you've selected, but it lets you select businesses and upcoming events as favorites as well.
YP 3.0 adds some personalization features, allowing you to pick a single category each for deals and entertainment to appear on your home screen. You're also able to customize which business categories appear in a permanent bar at the bottom of the screen. (You can scroll through categories in a list at the top of the screen, but the bar at the bottom offers quick access to categories like gas, taxis, or whatever you select.)
AT&T Interactive says it's also optimized YP for speedier searches. When browsing through listings, a single swipe summons buttons to call a business, look it up on a map, save it to your favorites, or share it with friends via Facebook, Twitter, e-mail, or text message. The idea, Williams says, is that you can get information without having to drill down further into a listing, saving taps here and there.
The 3.0 update also promises enhanced location detection that pinpoints your location to a street address. That makes it easier for YP to find businesses and deals in your vicinity. The app's home screen also displays local weather tied to your location.
"Our focus is to not just take the print version [of the Yellow Pages] and put it on a mobile device, but to offer more connections, location awareness, and personalization," Williams said.
AT&T Interactive, through YellowPages.com, also offers an iPad version of YP, though that app remains at version 1.5, last updated in December.